JACKSON — This was supposed to be Jackson's crowning achievement.
One of, if not the best baseball season in school history. Earned 20 wins and won the first FAC title in school history with a loaded roster with all the potential in the world to make a deep tournament run.
But just like that, the dream is over.
In a Division II sectional final, the Ironmen committed four uncharacteristic errors and couldn't piece together enough timely hits, falling to FAC foe Hillsboro 2-1 to end their season on Thursday.
"(Hillsboro pitcher Ryan) Scott made things difficult for us, and he's a really good pitcher," Jackson coach Josh McGraw said. "We knew coming in this was going to be tough because he's very efficient with his pitches. I figured that three runs would win this game because both teams are so familiar with one another, and it just didn't work in our favor."
Despite being familiar with Scott, the fact remained that Jackson hadn't faced him on the mound during the regular season so there was bit of a mystery factor that the Hillsboro hurler took advantage of.
He mixed pitches, and located the ball on the corners effectively as he earned the win in a complete game outing and struck out 11 Ironmen.
"Every single time he need an out, whether it was a strikeout or groundout, he got it," McGraw said. "You have to give him credit for him performance and their defense for backing him up. He was dominant all day."
Hillsboro jumped out to a quick 1-0 lead to open the game with an RBI single off the bat of Spencer Wyckoff.
It added to the lead in the next inning as Coltin Hunter belted a solo home run to left center field that pushed the game to 2-0.
From that point on, Scott and Bryson Brown exchanged scoreless inning after another. Drew Bragg took over in the fifth inning and picked up right where Brown left off.
He got some run support in the bottom of the sixth after Ty Broermann ripped an RBI double that hit off the fence in left field, bringing the game to 2-1.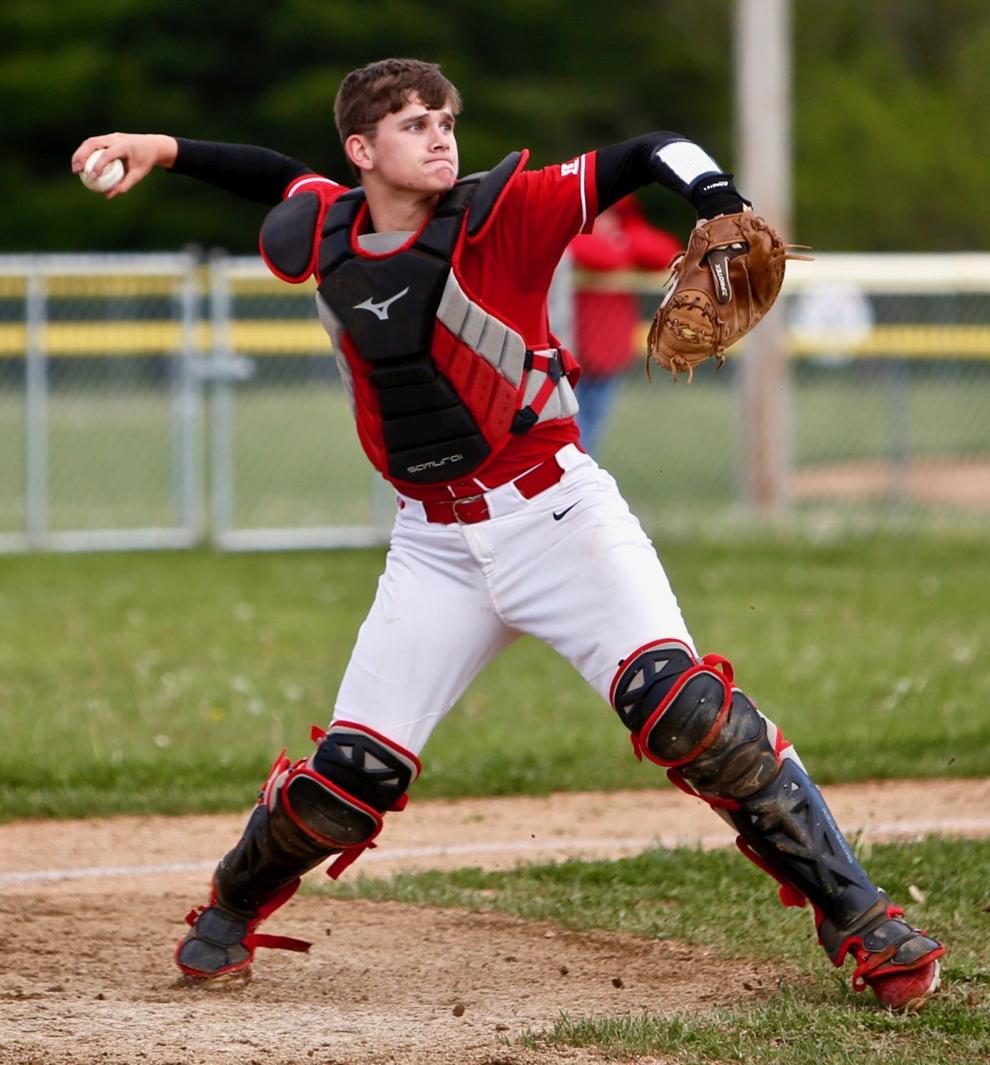 "We finally got him timed up a little bit after the second time through the lineup and made some contact," McGraw said. "It's the only time I wish that high fence wasn't there though, it would have been a tie game if hit anywhere else on the field. But it was still a big hit at a point where we needed it."
Bragg faced the bases loaded in the top of the seventh with one out, but got a strikeout followed by a sliding catch from Logan Camp to end the inning.
Jackson in turn managed to load the bases following a pair of singles and an intentional walk with two outs. However, Scott got the next batter to striking out looking to end the season and send Hillsboro to district action.
"We had our chances late in the sixth and seventh, but like I said before, Scott got the outs when he needed it," McGraw said. "All we needed was a groundball at some point and it would have been tied at the very least. We battled hard and never gave up, but in the end we just couldn't put another run across."
The Ironmen now say goodbye to eight seniors: Broermann, Camp, Boston Kuhn, Isaac Kuhn, Nate Mcmanaway, Haydn Brown, Cayden Humphries and James Bixler.
"This is extremely bittersweet to say goodbye to this group. I've coached them ever since they were 7-8 years old and I've watched them grow into incredible young men," McGraw said. "This season was all about a turning point and gaining that respect this program had lost for a little bit and these guys are responsible for this transformation.
"Going from last place in the FAC just a couple years ago to the top of the conference and winning 21 games is something to be very proud of. These guys have set the tone and the example to the younger guys about what we expect moving forward. This class will never be forgotten and I'm so proud of them for what they accomplished on and off the field."