MCARTHUR — Earlier this season, Vinton County's Braylon Damron tied the school record with eight 3's in one game, tying the school record.
Friday was his night to etch his name forever in the history books.
The junior forward buried a school record nine 3's, the last one with 1:57 left in the game before finishing with 27 points alongside nine rebounds in the Vikings' 69-56 victory over Alexander.
"When I stepped up and took that shot, I sort of hold the pose because I knew it was going in and I said 'Record'," Damron said of his final shot. "It's an awesome feeling to be standing alone in the record books. I've put in a lot of work to be the player I am after getting limited time last season, so it's an incredible feeling."
Although Damron's record was easy to follow, another record was tied that got lost in the shuffle.
Eli Radabaugh spent most of his night finding Damron and his open teammates on the perimeter, which resulted in the junior guard tying the school record with 11 assists to go alongside 10 points.
"Alexander ran zone on us, and I feel like against the zone it's really easy to find the open guys on the outside," Radabaugh said. "Braylon broke the school record, and I know a lot of those passes were from me so it was a lot of fun feeding him and my teammates all night. I couldn't have done it without them."
Damron had the hot hand from the opening tip, and he let it fly when he got a chance.
He buried his first three triples as the Vikings jumped ahead 11-5, but then they hit a cold streak and missed their next eight 3-pointers.
Meanwhile, Alexander's Kyler D'Augustino scored all 13 first quarter points to keep the Spartans afloat.
Damron buried his fourth triple to help keep the Vikings ahead 19-13, a quarter in which the Vikings launched 17 3-pointers.
As D'Augustino cooled down a little bit, his teammates began to make their impact felt. However, the Spartans still couldn't quite break through as they trailed 26-24, the closest they got for the rest of the night.
The Vikings closed out the half by scoring eight of the next 12 points to lead 34-28 at halftime.
"Our defense is more geared towards shutting down opposing team's role players instead of their standout," Vinton County coach Matt Combs said. "We switch a lot so it's not uncommon for a team's best player to get his averages. It was sort of pick your poison, so we wanted to limit the role players and overall I think we did a solid job of that."
The Vikings continued to launch from distance, but also converted buckets inside from Asa Davidson and Radabaugh.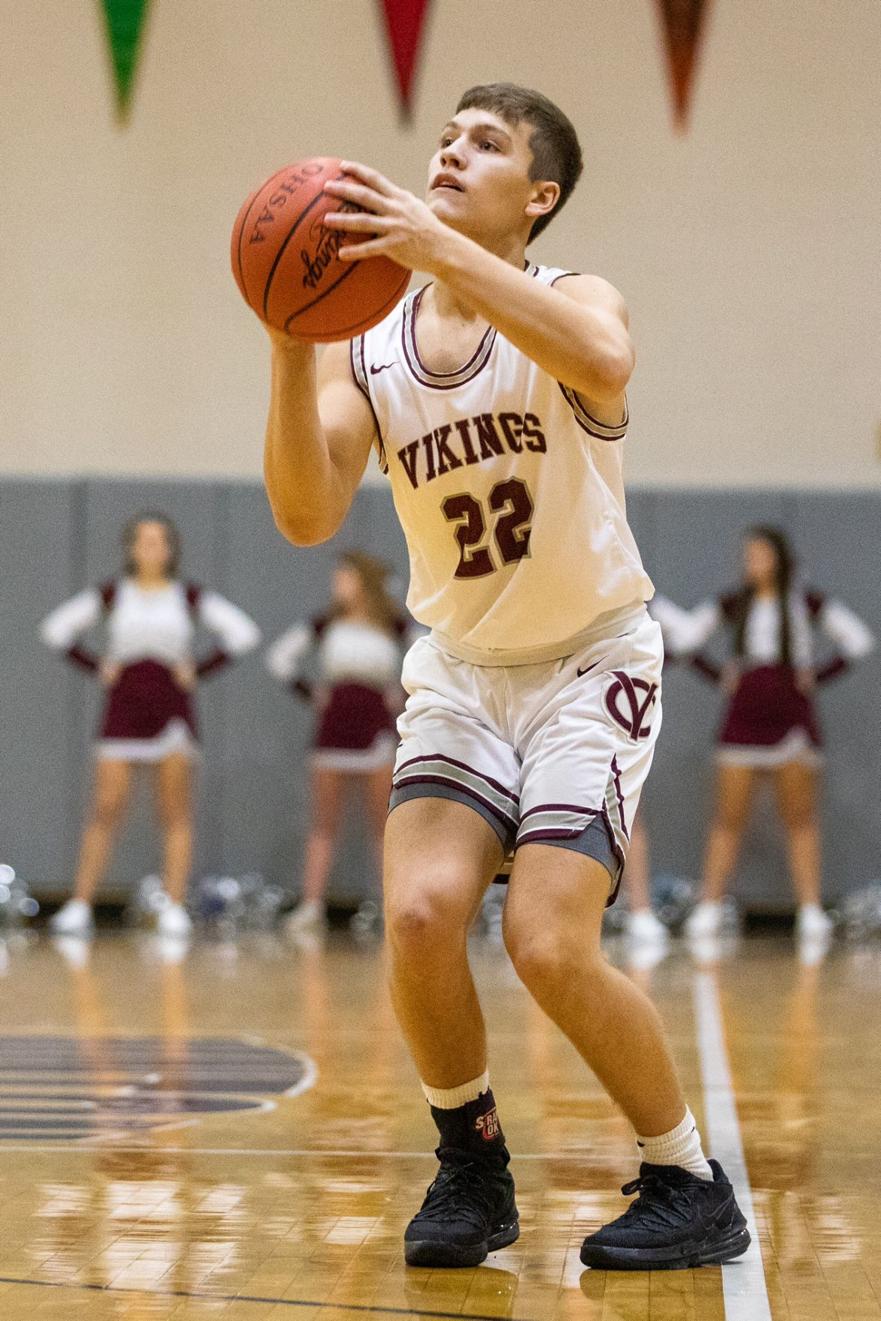 Damron buried his sixth and seventh 3-pointer in the frame, the Vikings hit five more in the third as the lead got extended to 53-41.
D'Augustino continued to keep his team within striking distance, but for every shot he hit, the Vikings drilled another triple.
Despite the sophomore standout finishing with 33 points and 10 rebounds, the night belonged to Damron and Radabaugh.
With the lead still double digits as the Spartans started to foul, all eyes were focused on Damron as he swished his eighth triple, tying the record.
He took three more 3's, but missed before Lance Montgomery got an offensive rebound and found Damron near the top of they for the record-breaking shot that ultimately put the Spartans away for good.
"We've put in so much work in the offseason, being in the weight room and going harder in drills than we did last year," Damron said. "We didn't have the season we wanted last year, myself especially, so I wanted to step my game up and give us a chance to do something special this year."
"I wasn't sure how our guys were going to handle the zone, but I thought we did a great job getting inside and making the extra pass," Combs said. "We are an unselfish group and that's a big part of what Braylon was able to do what he did. He's worked really hard and it shows with how he's played.
"Eli has worked so hard physically to add to his body and he continues maturing on the court. He epitomizes what our team is about, which is unselfishness. We're averaging around 15 assists a game, and he's at the forefront of that. I'm happy with his progression."
After Damron and Radabuagh, Montgomery added 13 points, 10 rebounds and four assists, while Randall Matteson has nine points.
Vinton County returns to action on Tuesday at Chillicothe in non-conference action.
Vinton County: 19-15-19-16
Alexander: 21-47 FG, 7-10 FT, 7-18 3pt., 28 rebounds (D'Augustino 10), 14 turnovers, 7 assists. Scoring: D'Augustino 33, Houpt 12, Hornsby 5, Clark 3, Cain 2, Truax 1.
Vinton County: 23-61 FG, 8-13 FT, 15-37 3pt., 32 rebounds (Montgomery 10), 4 turnovers, 17 assists (Radabaugh 11). Scoring: Damron 27, Montgomery 13, Radabaugh 10, Maateson 9, Karr 5, Davidson 4, Bledsoe 1.