HILLSBORO — Hillsboro is still figuring things out along the way, but its racking up victories while doing so.
It put on a shooting display, burying 11 3's on the night and shooting 20-of-28 at the free throw line as it notched the biggest win of its season to date, a 73-64 victory over Jackson on Friday.
Not only did it clinch the 10th win of the Indians' season, but it also moved them into a first-place tie with the Ironmen atop the FAC.
"This group, led by nine seniors absolutely willed themselves to this win tonight," Hillsboro coach Miles Burton said. "Every single person did their job and I couldn't be more proud of them. We're in an unfamiliar spot not just being tied in the FAC, but being in big game situations like this. We learned from the first time we played Jackson and remembered that feeling of crumbling. We rose to the challenge this time around."
Two of those seniors were right in the middle of the shooting storm as Ryan Scott and Lawton Parry showed no fear in letting it fly.
Scott drilled five 3's, including three in the second quarter while also making the right decision late in the game to help seal the win as he finished with 24 points and four rebounds.
Parry came off the bench, bringing energy and doing damage like a bulldozer. He drilled four triples and was a perfect 7-of-7 at the line, ending with a career-high 23 points.
"Ryan can score at any moment, but I was really impressed with his defense," Burton said. "He did a great job of guarding (Drew) Bragg, who is an excellent player and limited his impact. Lawton was incredible from shooting outside, but also making his free throws. Just unbelievable games by those two alongside everyone else who saw the floor."
Hillsboro started out with a quick 5-0 lead, but Jackson's Boston Kuhn quickly erased that and caught a crazy hot hand.
With Jackson (8-2, 4-1 FAC) trailing 9-6, Kuhn went to a different level and scored 14 straight points as Hillsboro had no answers and trailed 23-13 after the first.
"We've had troubles getting off to a fast start in our past five games, but we got some good energy going from the opening tip," Jackson coach Max Morrow said. "Boston really got going, and we did a good job of finding the hot hand."
Jackson continued to have a double-digit lead, but as Kuhn went cold, Scott began heating up. He buried consecutive 3's and Parry swished one to cut the lead down to 32-27.
After an Ironmen turnover, Scott nailed his third triple of the frame to end the half, but Jackson remained ahead 37-33.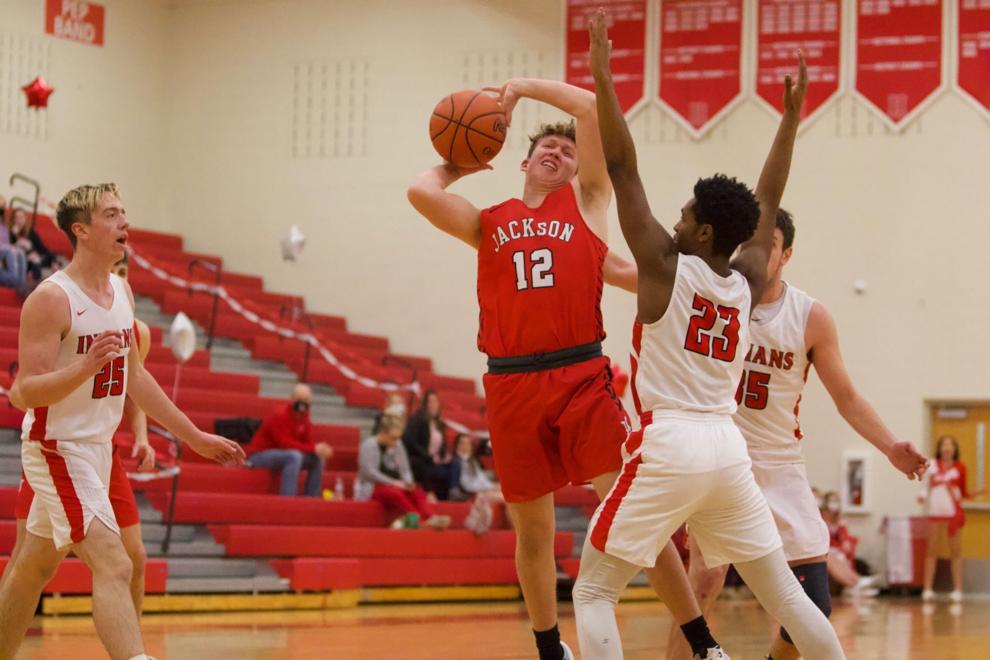 "It's tough to win on the road at Hillsboro," Morrow said. "They're a really good team, and their guys played an aggressive brand of basketball. We had a nice lead in the second quarter and they chipped away at it. They shot lights out and made five 3's while we made some bonehead plays."
Hillsboro (10-2, 4-1 FAC) sensed it was time to make its move, and went off to the races. Scott, Parry and Hunter Price combined to go on an 11-1 run that gave the Indians back a 45-40 lead, one that wouldn't be relinquished for the rest of the night.
Jackson still battled, but couldn't get any buckets to fall as five-point leads turned into eight points leads before ultimately it became a 63-51 game.
Yet, the Ironmen were still breathing as Braxton Hammond spearheaded a 7-0 run to bring the game back to five points, but Captain connected from distance on the next possession that proved to be the knockout blow from Hillsboro.
"We have to handle pressure better and get into our sets cleaner as the season continues," Morrow said. "There's a lot of things we do great, but we have to cutdown on the mental errors and silly mistakes. We also need to find a vocal leader. For some guys, they're just naturally quiet, but we need someone to step up vocally. It can't just be us coaches doing it for them."
Following Scott and Parry, Captain ended with nine points while Price had seven points, 13 rebounds and six assists.
Kuhn finished with 15 points for Jackson, followed by 13 points from Tristan Prater and 12 points with six rebounds from Hammond.
Jackson aims to get back in the win column on Friday at Washington.
Jackson: 24-51 FG, 10-18 FT, 6-19 3pt., 26 rebounds (Bragg 9), 8 turnovers, 9 assists (Spires 4). Scoring: Kuhn 15, Prater 13, Hammond 12, Spires 7, Bragg 7, Blankenship 5, Erwin 5.
Hillsboro: 21-46 FG, 20-28 FT, 11-25 3pt., 27 rebounds (Price 13), 6 turnovers, 11 assists (Price 6). Scoring: Scott 24, Parry 23, Captain 9, Price 7, Miller 5, Clark 3, Hunter 2.