OAK HILL — The last time Jackson and Oak Hill squared off in boys basketball, Max Morrow was donning the red and white uniform of the Ironmen.
Years later with the county rivalry game restored, he was back in the action on the floor, but in a slightly different role.
Now the head man in charge, he led his Ironmen into enemy territory, and they walked out with a resounding 64-36 victory over the Oaks on Thursday.
"First of all, what an incredible atmosphere this was. Full stands, student sections, band, just a tremendous amount of support for these players who weren't even five years ago the last time Jackson and Oak Hill players," Morrow said. "Our team defense really stepped up to create turnovers and limited Oak Hill's second chance opportunities, so I was really proud of that."
Morrow and company centered their gameplan around one thing, and that was stopping Oak Hill's Aidan Hall from getting close looks at the basket.
The Ironmen threw different players at him throughout the night and mixed up how to guard him. They ultimately held him to just 10 points and six rebounds for the evening.
"We had to guard him at all times. He's a monster inside and a really good post presence," Morrow said. "I thought we did a good job of corralling him and making things difficult on the perimeter. We've guarded really good guards who can shoot the ball before with Chillicothe and Minford, and Oak Hill was no different. But we knew they wanted to feed the ball inside the block and let Aidan go to work, but we rose to the challenge."
Jackson had its gameplan defensively, and offensively Tristan Prater wasted no time jumpstarting the Ironmen.
He scored the first four points of the game, then notched an assist on a 3 from Holden Blankenship before burying two free throws to put them ahead 9-2.
He scored another bucket, before Evan Jarvis and Nate Woodard did the rest of the damage by scoring four points each to give Jackson a 19-8 lead.
"I know that I have to bring the energy, and I think everyone feeds off of that," Prater said. "Coach always tell me that, so that's what I do, and I trust that my guys have my back at all times."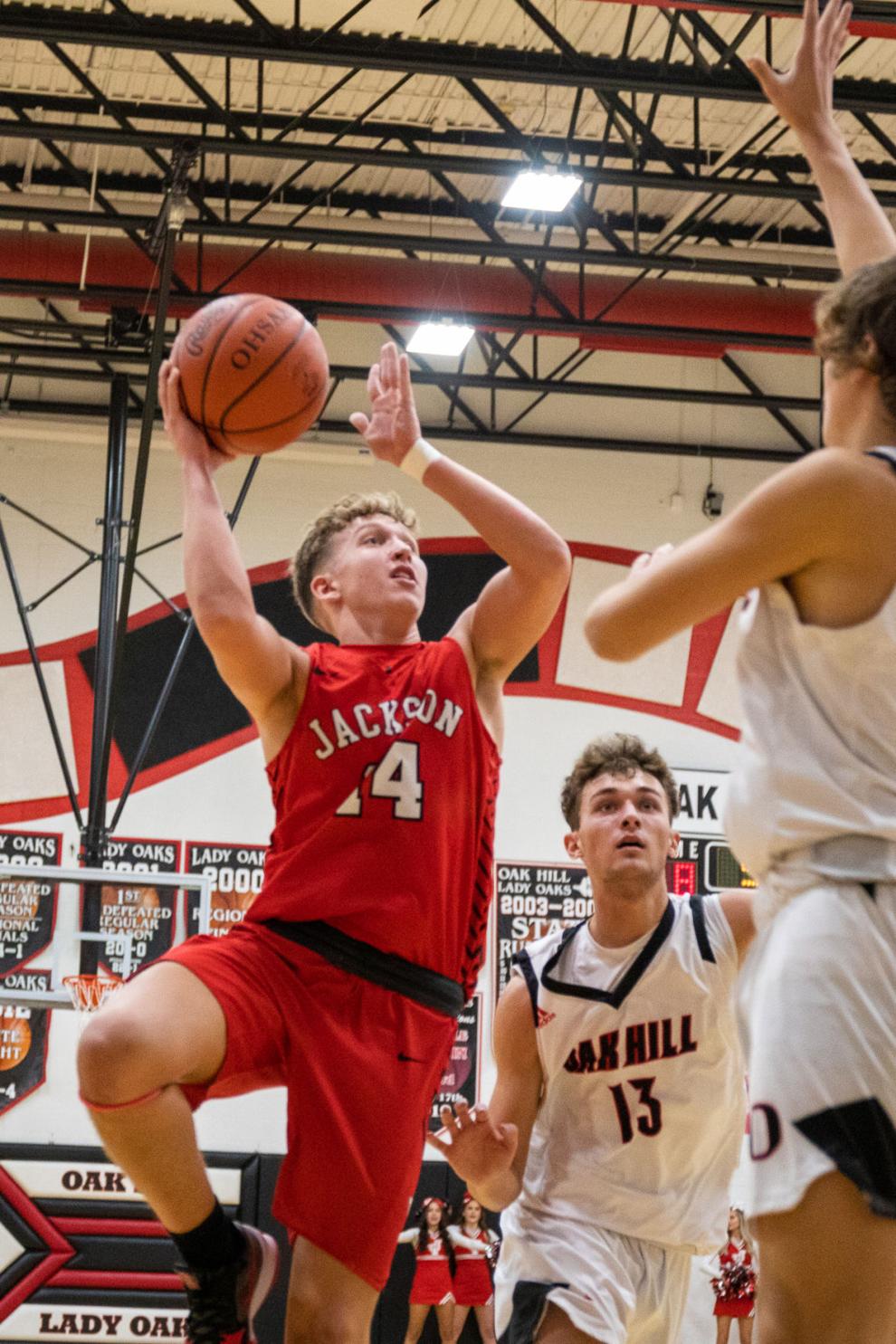 Woodard, Blankenship and Boston Campbell combined to go on a 7-0 run, pushing the lead up to 26-8.
However, the Ironmen relaxed down the stretch and committed some turnovers to allow the Oaks to gain some momentum.
Kade Kinzel buried the triple, then he, alongside Gavin Howell and Braylon Howell, buried six free throws to cap a 9-2 run that trimmed the lead to 28-17 at halftime.
"We weren't happy with the final two minutes of the half. We had an 18-point lead at one point, and just didn't close strong," Morrow said. "But also at the same point, Oak Hill made some shots and we knew they would. They're too good of a shooting team and too well-coached to not connect. We can't turn the ball over like we did and that's something we have to clean up."
With the game more manageable, Oak Hill continued on the attack. Hall scored a pair of buckets before back-to-back 3's from Connor Clark and Kinzel cut the lead to single digits at 35-27.
A few free throws later, Oak Hill trailed just 39-32, yet that was the closest it managed to come for the rest of the night.
Jackson countered back with an 8-1 run, featuring Evan Jarvis and capped by a bucket from Prater to beat the buzzer, putting Jackson ahead 47-33 before closing out with a 17-3 fourth quarter to put a stamp on an Ironmen victory.
"This brings us a lot of confidence after losing three games by single digits," Prater said. "It's that little error of margin that really got us, but we knew we could come in here and really put it to Oak Hill to turn this thing around."
Prater finished with 15 points, seven rebounds and four assists for the Ironmen, followed by 13 points from Blankenship.
Jarvis added nine points and 10 rebounds, while Campbell had nine points.