NELSONVILLE — It wasn't hard for the Nelsonville-York Buckeyes to find motivation on Friday against the Wellston Golden Rockets.
"Last year they came in and beat us to take the TVC away from us," Nelsonville-York senior Drew Carter said. "We knew that we had to come in this week and get the job done."
The Buckeyes gained their revenge against Wellston, handing the Rockets their first Tri-Valley Conference Ohio Division loss since the 2019 season with a 40-21 triumph at Boston Field.
Wellston had defeated Nelsonville-York in each of the last two years, and had won three of the last four meetings at Boston Field.
The Buckeyes turned the tables, scoring 34 unanswered points to take control.
"We had this one circled," Nelsonville-York coach Rusty Richards said. "Didn't want to look ahead, but it's been on the calendar with the Trimble games and the Athens games."
Carter exorcised some demons against the Rockets.
He had four interceptions in last year's 24-12 loss at Wellston, but was nearly flawless in the rematch.
Carter completed 13 of 14 passes for 123 yards with two touchdowns, adding 31 yards and another score on the ground.
"His second year (starting)," Richards said. "He's making the plays we expect him to make. He made the right reads."
The Buckeyes (4-3, 3-0 TVC-Ohio) also had a spark plug in sophomore Gavin Richards.
The Rockets (3-4, 2-1 TVC-Ohio) drew first blood, going ahead 7-0 when Isaac Molihan completed a 36-yard touchdown strike along the sideline to Brenton Breech. That capped off a 98-yard drive.
Richards scooped up the ensuing kickoff and ran 75 yards for the score, quickly forcing a 7-7 tie.
Nelsonville-York would never trail again.
"That was a huge play, especially after they just scored," Carter said. "Just really set up our offense."
Richards finished with 80 yards on 10 carries, also scoring a touchdown as well as playing linebacker defensively.
"For 150 pounds, that little dude can play," Rusty Richards said. "He's tough."
The Buckeyes never looked back after Richards' kickoff return. They forced a three-and-out, then drove 52 yards for their first offensive touchdown.
Carter carried it into the end zone from a yard out to give N-Y a 14-7 lead.
The Buckeyes made big plays to bury the Rockets from there. Leighton Loge intercepted Molihan on Wellston's next drive, setting Nelsonville-York up at Wellston's 12-yard line.
N-Y scored five plays later, going ahead 21-7 after Hudson Stalder's 1-yard run.
The Buckeyes delivered perhaps the knockout punch before halftime. Facing a third-and-24 from their own 28, Gavin Richards took a handoff up the middle.
He was able to break free for a 45-yard gain, giving Nelsonville-York a first down at Wellston's 27-yard line with 14 seconds left after Cater spiked the football.
"We were just playing it safe," Rusty Richards said. "We're going to run it and punt the ball. Gavin, that was a heck of a run."
Carter found Loge for an eight-yard pass in what was going to be a hook-and-ladder attempt, but Loge was unable to pitch the ball back.
With seven seconds left, the Buckeyes came out of a timeout at Wellston's 19-yard line.
Sophomore Makhi Williams — playing for the first time since against Trimble in week one — run up the seam and into the end zone.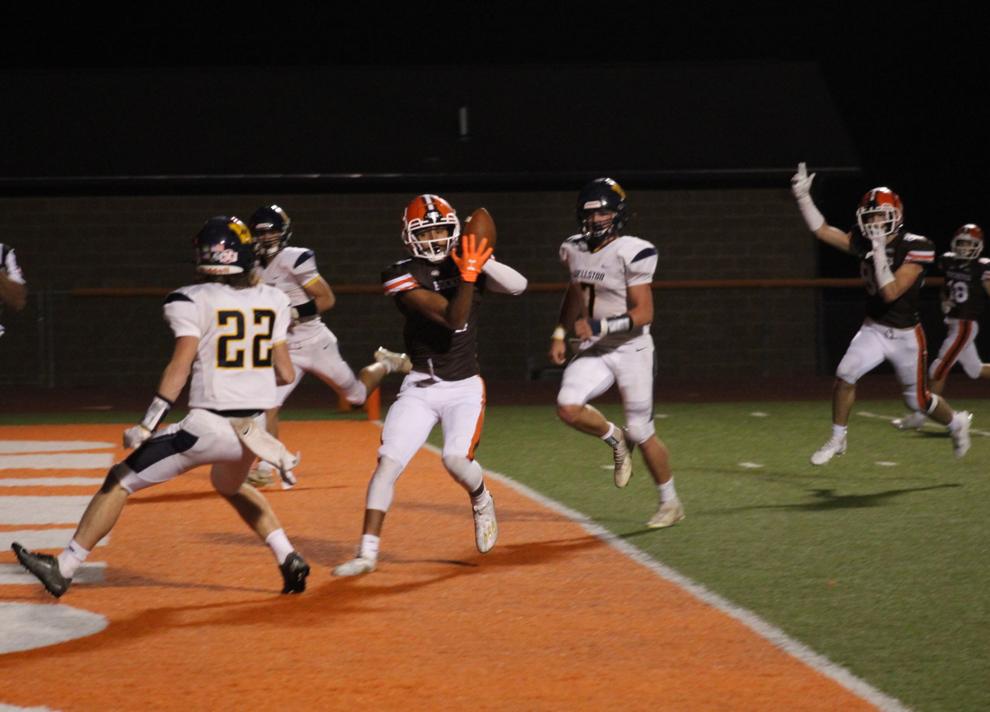 Cater found Williams in stride, stunning Wellston with the touchdown with just two seconds on the clock.
Instead of punting the ball away in the final minute, Nelsonville-York took a 27-7 lead into halftime.
"We knew it was going to be open all game long," Carter said of the touchdown pass. "We were just waiting to call it at the perfect time. Worked out great."
The Buckeyes took the opening kickoff of the third quarter and drove 60 yards in nine plays, going ahead 34-7 when Carter found Loge for an 18-yard touchdown pass.
Loge had three catches for 29 yards on Friday to go with his interception.
"He is huge, because he does not drop any balls at all and his routes are so crisp," Carter said. "It's nice to have him out there."
Wellston got second-half touchdowns from Molihan on a 2-yard run and from freshman Cole Kemp on a 6-yard run.
Molihan completed 6 of 10 passes for 93 yards with two interceptions, as N-Y's Landon Inman also gained a pick.
The Rockets are still trying to find their offensive footing after senior quarterback Jeremiah Frisby's injury.
"We had one game of film on (Molihan)," Rusty Richards said. "We actually felt like he's probably a better thrower and opened their passing game up more whereas Frisby was a solid runner. They probably missed Frisby a lot on defense, multi-year stater."
The win over Wellston in the books, the Buckeyes are now tied with Vinton County as the only unbeaten teams in the TVC-Ohio. The Vikings are 2-0 in league play and travel to N-Y in week nine.
The Buckeyes go to Alexander next week as they continue their quest to regain the TVC-Ohio title.
"We go in each week thinking it's the biggest game of the year and that we are going to come out with a win," Carter said.