JACKSON — There was no heartbreak hangover. Jackson simply got back to the basics and did what it usually does.
Despite a wild week filled cancelations and replanning, the Ironmen got a last-minute chance against Tri-Valley and didn't waste the chance at revenge, defeating the Scotties 24-3 on Friday.
It was the Scotties who defeated the Ironmen last season to eliminate them from the playoffs. Yet, despite Friday's win, head coach Andy Hall was less than thrilled about the team's offensive performance.
"I know we had some kids who were in and out this week, but we were not very good offensively, and there's no excuse for that," Hall said. "We didn't move the ball very well and had way too many mistakes. False start penalties, guys not lined up in right, too many missed assignments, fumbled the ball. Just not a good offensive night, but the one good thing is that everything we did wrong is fixable. And we will fix it."
Though the offense had its share of struggles, the defense came ready to lay the wood and create extra chances for the offense.
In doing so, they held Tri-Valley to just 103 total yards of offense and caused three turnovers in process.
"Our defense played great, and our special teams did a tremendous job," Hall said. "We were still flat at times, but when a play needed to be made, it was the defense that typically did it. Very happy with that side of the ball."
Following a scoreless first quarter, Jackson put together a drive and got the ball inside the redzone. Though a penalty killed some momentum, it still put points up on a 31-yard field goal from Ethan Crabtree for a 3-0 lead.
That was all Jackson needed, and it began to heat up on both sides of the ball.
On Tri-Valley's second play of its drive, its pass was intercepted by Holden Blankenship to set the Ironmen up with possession in TV territory.
Though the Ironmen ultimately punted, they wasted no time getting the ball right back. With Tri-Valley facing third down, its pass was picked off by Xander Karagosian and he took it down to the TV two-yard line.
On the next play, Jacob Winters, who had six carries for 24 yards, took the handoff into the endzone to put them ahead 10-0.
"Xander has been making a ton of plays, and he really brings the energy," Jackson quarterback Evan Spires said. "He flies to the ball and has a really big part of getting our defense going."
They forced a punt, and in four plays returned to the endzone again as Evan Spires connected with Cade Wolford up the seam for a 35-yard touchdown, putting them ahead 17-0 at halftime.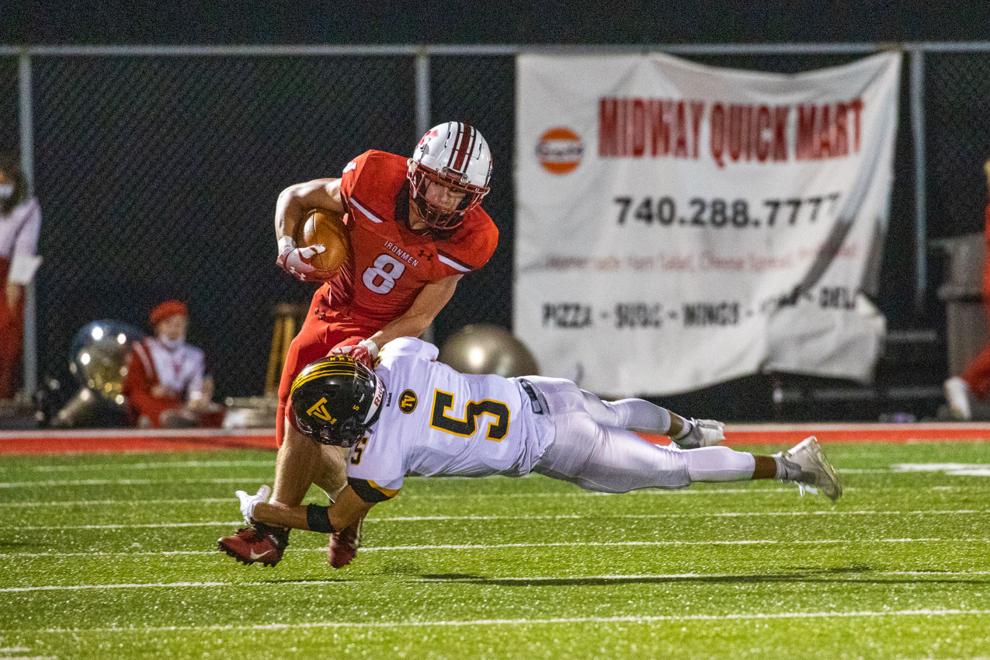 "I saw the seam in the middle of the field and just cut in between the safeties," Wolford said. "From there I was able to make the catch off a great pass from Evan, break through a tackle and get into the endzone."
Tri-Valley opened the second half and maintained ball possession for over eight minutes. It got inside the 10 yard line, but dropped two passes in the endzone and settled for a 25-yard field goal from Coleson McCullough for its only score of the game.
But Jackson delivered the final death blow in the fourth as Spires took the quarterback keeper and muscled his way to an 18-yard touchdown run, dragging three defenders with him into the endzone.
"We weren't sure if we'd ever get another shot at Tri-Valley for what happened in the playoff game last year," Spires said. "But it all worked out, and we weren't going to miss this opportunity."
Spires finished 8-of-14 for 119 yards with a passing and rushing touchdown, while Wolford wound up as the team's leading rusher with 17 carries for 95 yards and leading receiver with three catches for 62 yards and a touchdown.
Jackson hits the road on Friday for non-conference action in Mount Orab against Western Brown.
"Western Brown is an uptempo team and can really score, but I have every bit of faith that our defense will be ready," Jackson's Grant Mastin said. "They might get us here and there, but we've been playing really well as a unit. Our defensive line will have to get some pressure on the quarterback, but we believe in them and know we'll all make plays."