JACKSON — Survive and advance. That's all that matters at this point in the season.
It wasn't Jackson's cleanest game ever, but the postseason is about one thing: winning. And that's exactly what it did on Friday.
The Ironmen mustered up enough offense and put forth one of its better defensive games as it picked up a 17-6 victory over Eastmoor Academy in a Division III, Region 11 second round game.
"This was all about our defense. We held Eastmoor, a team that averages 40 points a game to under 130 yards of offense and less than 10 points," Jackson coach Andy Hall said. "They have great team speed, good size up front, but our guys weren't determined and just flew to the ball all night. We made mistakes that are correctable, but the win was important thing."
Maybe it was nerves, maybe it was the seniors being a little emotional playing their last game at Alumni Stadium, or maybe it was the cold. But both offenses struggled in the first quarter. So much so, it was scoreless.
Then Jackson cracked the scoreboard first with a 28-yard field goal by Ethan Crabtree to take a 3-0 lead.
However, Eastmoor had an answer back. Following an unsportsmanlike conduct penalty on the Ironmen, the Warriors went deep, and Devin Lloyd connected with Tramon Hairston on a 49-yard touchdown pass to put them ahead 6-3.
"That was one heck of a touchdown throw that kid made. We played really good coverage on that play, and he put that ball where only his receiver could get it," Hall said. "Just an unbelievable play."
On the next Eastmoor drive, the Ironmen defense knew it needed to make a play and it blitzed, which forced a fumble and they recovered in Warrior territory.
Four plays later, they went for it on 4th and 14. Jacob Winters took the snap, broke a tackle to keep the play alive and found Jacob Wood 33 yards in the endzone for the touchdown to put Jackson back ahead 10-6 — a score that remained at halftime.
"I felt pressure coming from my right, so I stepped up into the pocket and the defensive end came back inside," Winters said. "I broke his tackle, kept my eyes down the field and saw that Jacob Wood got behind the safety on a post route, so I let it fly."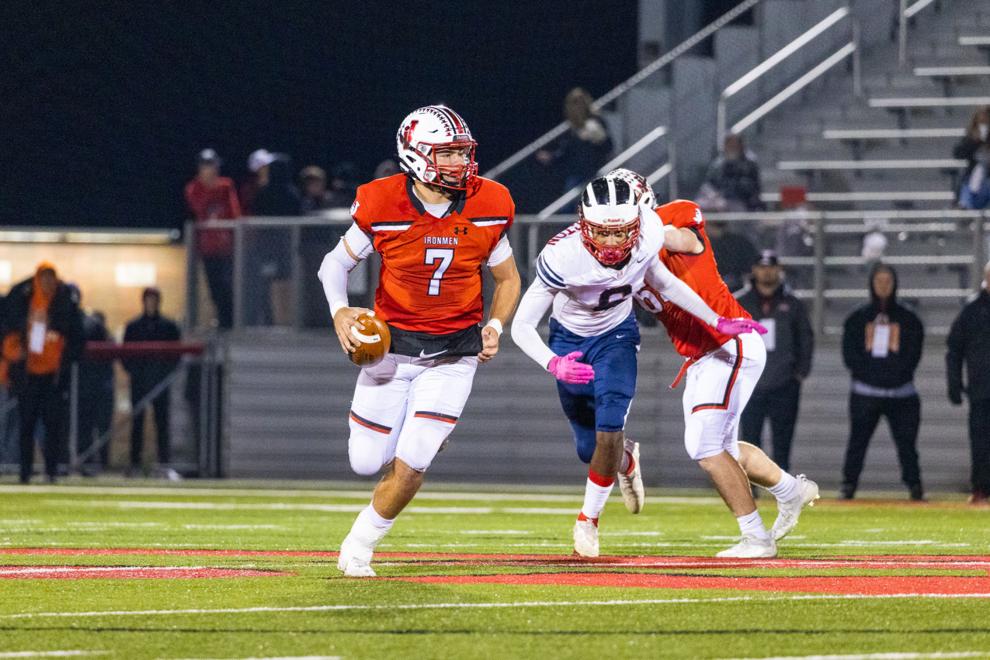 The third quarter was one of the most bizarre 12 minutes of football ever.
Jackson's Cade Wolford intercepted a pass on the first play of the second half, yet it punted.
Then Eastmoor punted, but Jackson fumbled on the first play which was recovered by Eastmoor. Yet, Jackson intercepted a second pass only to fumble on the return, which was also recovered by the Warriors.
It lead to the score remaining tied 10-6 heading into the fourth quarter.
After Eastmoor punted, Jackson put a drive together and moved down the field, converting a pair of third downs in the process.
It got all the way to the nine-yard line, where it faced another third down. Winters dropped back, and threw a back shoulder strike to Tristian Prater, who dove to the pylon for the touchdown to put the final score on the board.
"Jacob threw it in one of the best possible plays it could have been," Prater said. "It was perfectly behind me, so I took a step back and catch it. The defender had me by my ankles, but I knew it wasn't going to be enough so I reached the ball across and scored."
Jackson now advances to a Division III regional semifinal on Friday at Waverly High School in a rematch against Western Brown, who defeated Bellefontaine to move on.
The Broncos defeated the Ironmen 33-28 earlier in the season, but Winters says the Ironmen having been waiting for this rematch since the week five loss.
"We're coming with revenge on our minds. Getting beat by them was awful, we didn't think it should have happened," Winters said. "But since that game, we've found our identity on offense, and we know what works for us now."