JACKSON — Jackson waited a year for Friday's game and didn't miss its chance for revenge.
With the FAC championship hanging in the balance, the Ironmen racked up over 400 total yards of offense and pitched a shutout of Chillicothe 49-0.
"Our main goal is just to go 1-0 every week, and that was our approach this week," Jackson's Grant Mastin said. "Last year was definitely a heartbreaker for us, so we wanted that outright championship. It was something we had in the back of our minds ,and now we can look ahead to the playoffs and getting ready for that." 
These memories from last season's double overtime loss never left the Ironmen's minds and they kept their foot on the gas all night long.
Xander Karagosian set the tone for entire night just four plays into the game. With Chillicothe going three plays and punting, he came off the edge and blocked the punt before the ball rolled out at the 11-yard line.
On the very next play, Holden Blankenship took the carry and dashed 11 yards into the endzone to put the Ironmen ahead 7-0.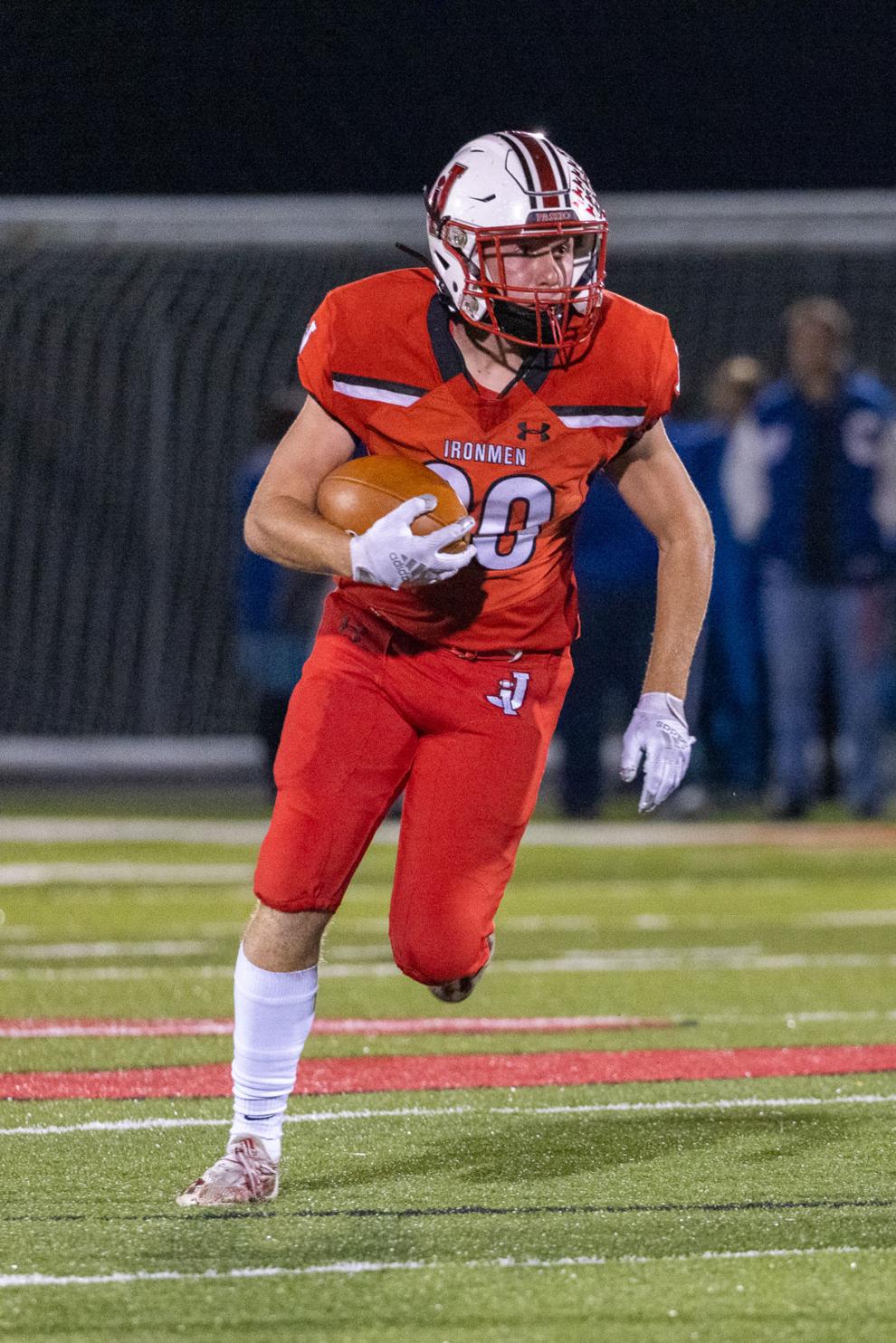 They were off to the races from that point.
The Ironmen forced the Cavaliers to go three plays and punt on five of their seven offensive drives in the first half. And most of those resulted in Ironmen touchdowns.
"We had one of our most focused practices this week," Jackson's Tristan Prater said. "Everyone was dialed in and everything was nice and smooth. We have to continue carrying this energy into the next game."
Jackson put a drive together, marched right down the field and Jacob Winters scored on a one-yard plunge for a 14-0 lead.
Then it was Cade Wolford's turn to join the party. Facing third down, he took the handoff and weaved through some traffic before running over a Cavalier defender and falling into the endzone from 21 yards out.
"Us being as tight as we are is one of the most important things about this team, it's almost better than just having pure talent," Prater said. "We all mesh together really well." 
It was back to bully ball as Winter found his way to paydirt again on the next drive, from one-yard out to push the lead up to 28-0.
Though Chillicothe was able to drive down the field and chew some time off the clock, it ultimately punted down to the Jackson 16-yard line.
From there, Jackson proceeded to drive 84 yards in just five plays with the drive capped off by a Winters 21-yard touchdown run that essentially put the nail in the coffin.
Jackson scored again on a 12-yard touchdown run from Wolford before Gavin Jones scored a rushing touchdown in the fourth quarter to end the game.
"Defensively we were dominant, and it's great to see our kids play with such great energy. There was just that special feeling in the air, and you could tell it was going to be a great night for our kids" Jackson coach Andy Hall said. "They got after Chillicothe, played like they wanted it, and I'm happy with how everything turned out." 
Jackson earned a No. 2 seed in the Division III, Region 11 playoffs and will host No. 15 seeded Columbus South on Friday. 
A win would earn them another home playoff game against the winner between No. 7 Eastmoor Academy and No. 10 Jonathan Alder. 
"We have to make sure we secure the ball and don't turn it over. Our penalties have gone down over the past few games, and hopefully it stays that way," Hall said. "We saw last year that the small things like extra points and two-point conversions can be the difference between winning and losing. It's a one week season now, so if we play well, we'll continue on. If not, we're done."