WAVERLY — It was the rematch it wanted. It waited eight long weeks to get revenge, improved day-by-day and was ready for the moment.
However, revenge will have to wait for another year.
Jackson poured out every ounce of emotion and threw everything plus the kitchen sink on Friday. But it wasn't enough as it fell for the second time this season to Western Brown 35-28 in a Division III regional semifinal on Friday.
"We've held Western Brown to their two lowest scoring games of the this season, and both times, we just didn't have enough offense to push us through," Jackson coach Andy Hall said. "There were so many things on both sides of the ball that we did a great job of doing, but we had four missed chances, including two off a turnover that we didn't capitalize on and it cost us in the end."
It was clash of titans. Both teams coming in at 10-2, vying for their first regional final appearance, and it lived up to the hype.
After receiving the opening kickoff, Jackson marched right down the field and Jacob Winters connected with Brodie Butcher on a 22-yard touchdown to put it ahead 7-0.
Western Brown put together a drive and converted a fourth down to keep it alive. However, on the next play following the conversion, its pass was picked off by Grant Mastin.
Though the momentum was on the Ironmen's side, it ultimately was forced to punt and the Broncos answered back with a three-yard touchdown run by Drew Novak to tie the game 7-7 to end the first quarter.
Both teams continued to throw one haymaker after another and connect. After converting a 3rd-and-8 to keep the drive going, Winters and Butcher hooked up again for a 14-yard touchdown for a 14-7 Ironmen lead.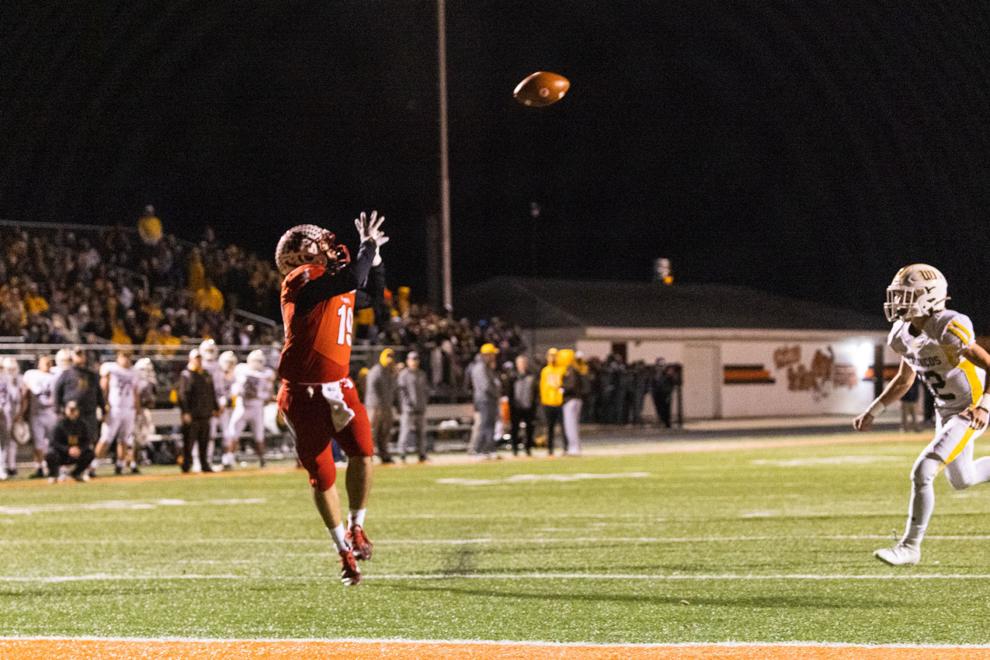 Yet, Western Brown calmly drove down the field and scored three minutes later on a six-yard run from Zachery Chrisman, tying the game 14-14.
Winters answered back with a 55-yard touchdown run, however, a flag was thrown for an apparent block in the back which took away the score and halted the Ironmen's momentum. They went for it later on fourth down, but the pass fell incomplete.
With the ball back in the Broncos' hands, they marched down and scored on a two-yard quarterback keeper by Novak — his second of the game for a 21-14 lead with less than 90 seconds remaining.
Yet, that was took much time on the clock. After Winters picked up a first down to gain a little traction, he then threw a little out route to Tristan Prater, who turned up the field and sprinted 53 yards up the sideline to the house, tying the game 21-21 at halftime.
"There's a a reason I've said Tristan is probably the best receiver in Jackson history, and there have been some good ones," Hall said. "He just makes the big play happen, and that was a perfect example. Just an out route to get out of bounds, and he turned it into a touchdown. Just unbelievable."
"We went into halftime, and I could tell our guys were tired. We ran 80 plays in the first half, and that's not our game. Western Brown is used to it because they platoon guys. We don't. We were snapping the ball too fast, so we made it a point to completely slow the game down."
After a scoreless third quarter, it all came down to the final 12 minutes.
Following a roughing the passer call on third down to extend the drive, Western Brown scored as Drew Novak connected with Dylan Novak on a 24-yard touchdown to put it ahead for the first time 28-21 with 10:03 remaining.
Jackson didn't panic, it simply trusted its running game to equalize and that's what it did. Chewing up five minutes of clock, it tied the game 28-28 following a two-yard plunge from Eli Broermann.
"Eli stepped up and did such a great job for us as the feature back," Hall said. "Not having Cade definitely hurt a little, but Eli picked up every bit of slack and just kept pushing. Jacob did a great job of controlling the clock in the second half and slowing everything down. They gave us a chance."
However, with five minutes still left on the clock, the Broncos ate up time and converted the big plays when needed, including a huge fourth down conversion.
That set the stage for Drew Novak to find Logan Campbell for a 21-yard touchdown strike with 1:51 left to put the Broncos ahead. Jackson had one final chance, but fumbled and the Broncos recovered to ultimately end the Ironmen's season.
"We knew Western Brown was going to get theirs, there's a reason Novak leads the nation in passing yards. They're an explosive and efficient offense, and we hung right with them," Hall said. "We had a great week of practice, our guys were ready, and it just didn't go out way, and I hate that for our guys because I know how bad they wanted this. But hats off to Western Brown, they played a great game and we wish them to best moving forward."
Winters finished 6-of-14 passing for 111 yards and three touchdowns to go along with nine carries for 116 yards on the ground.
Broermann has 23 carries for 106 yards and a touchdown. Prate had three catches for 75 yards and a touchdown, while Butcher had two catches for 36 yards and two touchdowns.
With the season coming to an end, the Ironmen are forced to say goodbye to 14 seniors: Prater, Mastin, Xander Karagosian, Drew Bragg, Evan Spires, Jake Malone, Holden Blankenship, Ty Jones, Hunter Webb, Caeleb McGraw, Hayden Bice, Shawn Woodyard, Cody Shrefler and Levi Woolum.
"Those guys have helped set a foundation of what is expected within Jackson football," Hall said. "Some of those guys battled injuries year in and year out, yet never quit and showed nothing but heart. This was only the third time in Jackson history that we've ever gotten to the third round, so they laid a great blueprint of what it takes to get to this point."
"It hurts to lose 14 guys who are like sons to me, but I'm so proud of them and everything they accomplished not just on the field but off the field as well. They're all great young men who will accomplish a lot and they'll be sorely missed."