Note: This sports recap appears in the Wednesday, Oct. 23 newspaper on Page B2.
MINFORD — With 19 seconds left and the clock running down, Oak Hill players were screaming and yelling at head coach Paul Carver to call timeout.
But Carver knew what he was doing.
With the ball spotted on the Minford 7-yard line, he called timeout with 2.4 seconds left and trotted out Brock Harden for the field goal attempt.
With the pressure of Oak Hill's season on his right foot, he drilled the 24-yard field goal to stun the Minford Falcons 17-14 on Friday night, putting the Oaks at 4-4 on the season and back in playoff contention.
"Pretty much everything just shut off around me and I was just focusing on that ball," Harden said. "I blocked out all the noise in the stands, kicked it and it went through. Greatest feeling ever to get this win. All around complete team effort."
Playing a team that scores nearly 40 points a game, the gameplan is simple: stop them from scoring. Easier said than done, but Oak Hill liked a challenge.
"Coach Allen and Coach Harden came up with a great defensive plan that these guys executed perfectly," Carver said. "We spend tons of hours going through it and I couldn't be more pleased with the defensive effort our guys put forth."
Part of that challenge was slowing down Minford's duo of Elijah Vogelsong-Lewis and Ty Wiget who had combined for more than 20 touchdowns on the season.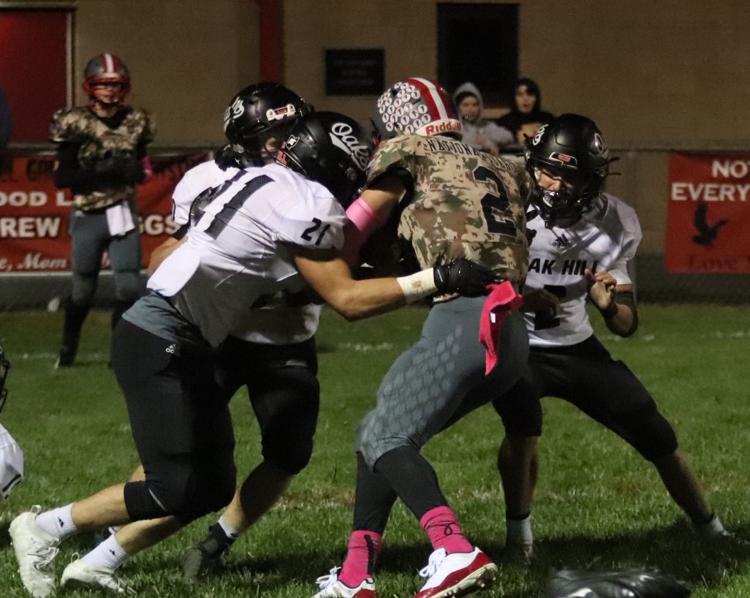 The Oaks held both guys firmly in check despite the few times they made some break out runs to generate some rhythm.
Following a scoreless first quarter, Wiget was able to find a hole on the outside and score from eight yards out for a 7-0 Minford lead, which stayed that way to halftime.
Despite trailing at the half, it seemed like a victory for the Oaks considering what Minford had done offensively in the previous seven weeks.
"We talked the whole week about never wanting the feeling again like we did after Wheelersburg," Carver said. "That feeling of defeat and being shutout stung. We knew Minford went to overtime with Wheelersburg, but our defense was spectacular, especially in the redzone. Our kids just played hard."
Getting the ball at the start of the third quarter, Oak Hill didn't waste its chance to seize some momentum.
Chewing up over six minutes of clock, the Oaks capped a long drive with a 12-yard touchdown run by Triston Diltz to tie the game, 7-7.
"We didn't change anything during halftime, we were playing good football," Diltz said. "We were right in the game, just needed one drive and we got it. The offensive line did a great job blocking and give me a wide open hole to run through."
The Oaks rode the legs of Diltz, mostly for the rest of the game. So much so that he was cramping and drinking mustard packets on the sidelines to ease the pain.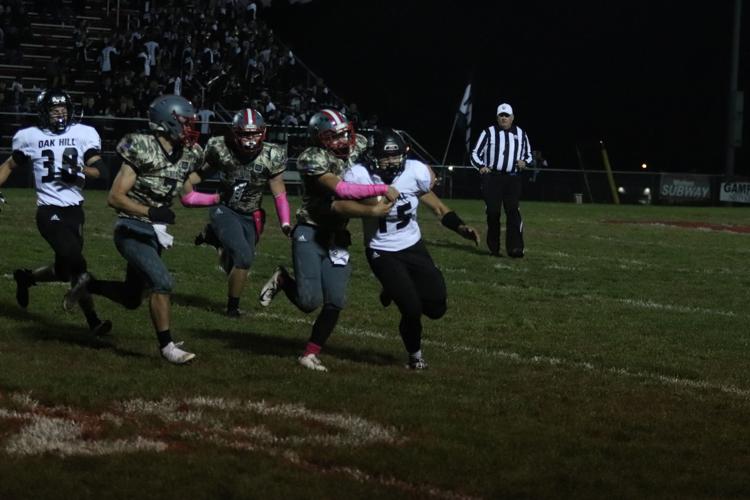 Meanwhile the defense was doing its part keeping the Falcons from gaining any momentum. Realizing the offense wasn't clicking, they relied on their special teams to make a play.
With Oak Hill back up to on their own 1-yard line, it punted and Wiget found a gap that lead to the 34-yard punt return for the touchdown and a 14-7 lead midway in the fourth quarter.
However, the battle was just beginning and the Oaks had an answer and took less than two minutes to do so.
Getting a push up front, Keaton Potter, who already had an interception back on the third play of the game, found the hole and sprinted 56 yards up the left sideline to tie the game at 14.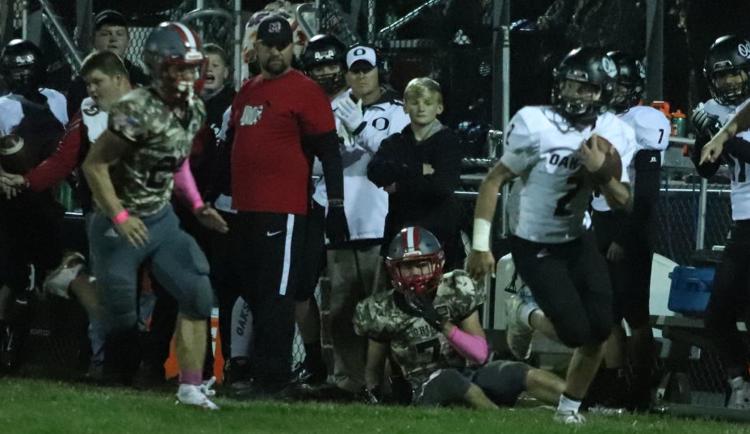 It was all Diltz from that point on.
After forcing a Minford punt with four minutes left, Diltz received carry after carry and continued to gain seven yards every time, sometimes more.
"We knew that last drive was our chance," Diltz said. "The line kept driving and we kept pushing. We weren't going to stop until there was no time left."
Diltz carried the Oaks all the way down to the redzone and to the seven-yard line where Harden took over and kicked the Oaks right into the playoff picture.
"We still made a few mistakes, but we overcame them," Carver said. "The kids were excited at halftime and that excitement stayed with us until the end. Brock missed a kick at Nelsonville-York, so I couldn't be happier he got this one. Great team win."
Oak Hill is back in SOC II action on Friday at Portsmouth West.