MCARTHUR — After its loss to Zane Trace two weeks ago, Vinton County coach T.J. Carper felt the team was getting a little complacent despite being 2-1 at the time.
He challenged everyone to push themselves, especially the younger guys to compete and earn some valuable snaps.
Not only did sophomore running back Gabe Raschke earn those snaps, he made a career night out of it.
He carried the ball 16 times for 230 yards on the evening, and found the endzone five times to lead the Vikings to a 50-21 drilling of Athens on Friday.
"It felt like I was going to score every time that I touched the ball," Raschke said. "I just kept playing with that dog mentality, and there was nothing stopping me. I also have to give a lot of credit to the offensive line. They did such a great job up front and really wore Athens down."
On top of Raschke's 230-yard outing, the Vikings gashed the Bulldogs for over 430 rushing yards. Additionally, it was the first time since 2017 the Vikings put up 50 points or more in a game.
"I'm so proud of these guys from the way our defense played in the second half to how the offensive line played and everything in between," Carper said. "A lot of our focus was on our line play throughout the past two weeks of practice and seeing who wanted it, but we all got better. Guys stepped up and played with an extra chip on their shoulder."
Athens drew first blood on the opening kickoff as Marcus Stevers got to the edge and outraced everyone 90 yards up the left sideline for a quick 7-0 lead.
The Vikings answered back in four plays though. Following a 57-yard run from Raschke, he found the endzone from four yards out to bring the game within 7-6 following a failed extra point attempt.
For much of the first half, the Bulldogs stuck to running RPOs (run, pass, option) plays and it executed a perfect fake that led to Landon Wheatley connecting with a wide open Levi Neal for a 69-yard touchdown, making it a 14-6 lead.
Raschke answered back with a 39-yard touchdown, Athens responded with a four-yard score from Luke Brandes and then Braylon Damron scored from one-yard for a 21-18 score.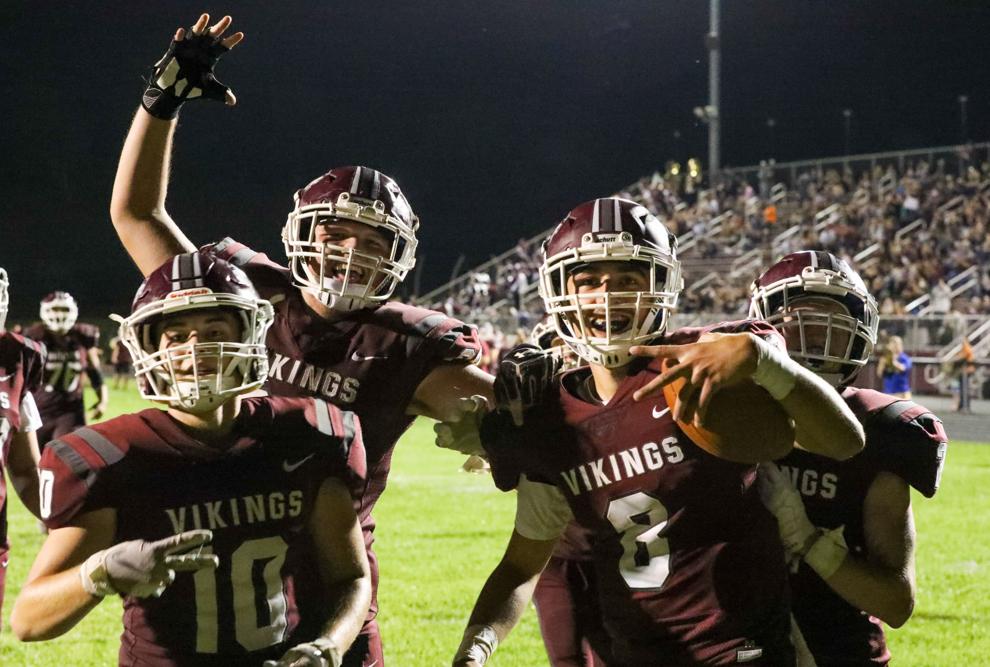 The Vikings got a stop and had one last opportunity to score, but ran out of time despite spiking the ball with a second left on the Athens' 10 yard line.
"I think that's when the switch flipped for us. We thought we had a second left after that spike, and Athens celebrated going into halftime with the lead," Damron said. "Coach was furious, but that put a fire under us. If he's that mad, we have to be even madder and play harder."
The Vikings received the second half kick, and on their first play, Zayne Karr, who finished with 20 carries for 170 yards, went 53 yards up the sideline.
That set up Raschke for his third score of the night from three yards out to give then their first lead of the game at 26-21 after a successful two point try.
Raschke scored two more times from 30 yards and 59 yards before Damron added his second rushing touchdown on a quarterback option to put the game on ice.
"We showed up and showed who can be in the second half," Raschke said. "It was all about our mentality, and we've came in for the past couple weeks working hard and giving 100%. We wanted this game for our seniors and TVC purposes."
While Raschke was busy torturing the Bulldogs' defense, the Viking defense was putting the clams on the Bulldogs' offense.
The RPOs weren't as effective, the run game was getting stuffed and Athens was wearing down by the play.
"We didn't adjust too many things at halftime, most of our mistakes came from missed tackles," Carper said. "We missed so many tackles in the second quarter and couldn't get off the field. It just came down to guys doing their job and making the play."
That level of aggression combined with still being angry from the spike call to end the half added up to holding the Bulldogs scoreless in the final 24 minutes.
"I stress to the guys about putting in quality work and not just going through the motions," Carper said. "Also our attention to detail and finishing a play changed at halftime. Our guys responded like champions."
Vinton County returns to the gridiron on Friday in TVC action at Alexander.