JACKSON — Maybe it's because it was opening night, but there's something about playing Logan that Jackson's Jacob Winters enjoys.
In last season's opener, he piled on five touchdowns in a Jackson victory. This time around, nothing truly changed.
The junior standout found the endzone on the ground three times and threw for a score as the Ironmen soundly defeated Logan 42-7 on Thursday.
"Our coaches did a great job of preparing us, and we executed pretty well on the defensive side of the ball," Winters said. "We shook off a slow start, moved onto the next play and really got after it."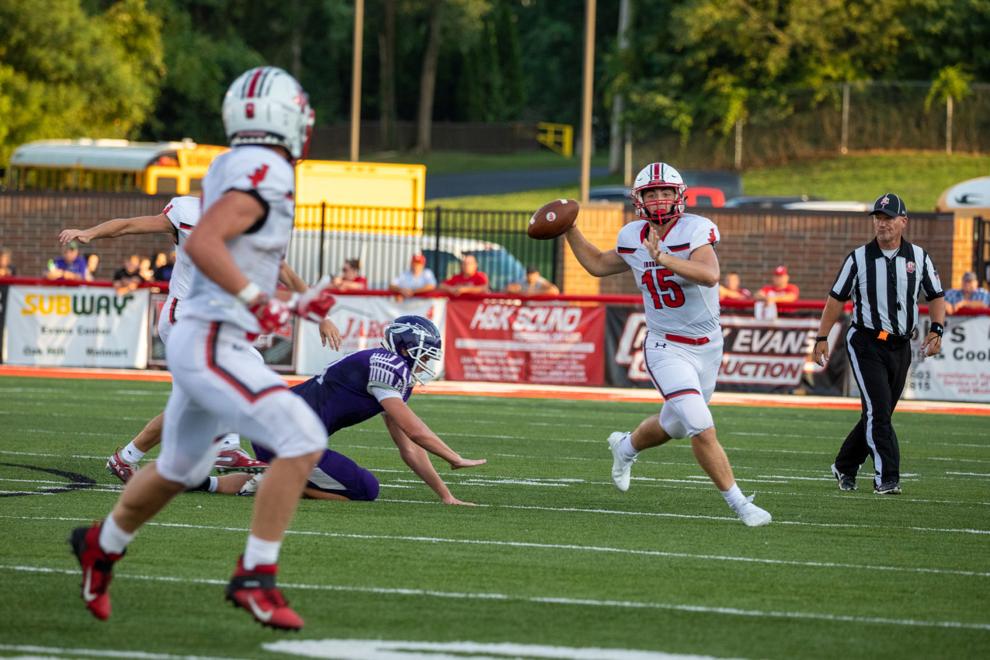 It didn't start out smoothly for the Ironmen though as Logan's Traten Poling took the opening kickoff 94 yards for a touchdown to put the Chieftains ahead 7-0.
Logan's defense came up with a fourth down stop to regain possession, which caused a little bit of panic on Jackson's sideline.
"That kickoff return was a shot in the gut, definitely not the way we wanted to start the season and it took us a couple drives to shake that off," Jackson coach Andy Hall said. "But our defense really hung in much better than we did in our last scrimmage against a similar style of offense with the Wing T. They held the line of scrimmage much better and allowed our linebackers and secondary to get downhill and into the backfield."
However, Jackson forced a punt, and two plays later, Winters found a hole and sprinted 70 yards up the right sideline for a touchdown, tying the game 7-7.
"It was a called trap, and our right tackle blew up the linebacker, so I hit the hole hard and found the open space," Winters said.
"I thought Trent Evans played an outstanding game, and that play where he sprung Jacob for the long touchdown was perfectly executed," Hall added. "Trent probably had three or four really good pancake blocks to open space or seal the outside, just outstanding."
It was all Ironmen for the rest of the night.
Winters found paydirt again from one yard out on the next possession, putting Jackson ahead 14-7.
Logan's first play on its next possession was intercepted by Tristan Prater. A few plays later, Cade Wolford barreled his way into the end zone from four yards to extend the lead up to 21-7.
Winters found the end zone again from a yard out, his third rushing score of the evening, and later tossed a 20-yard dime to Prater for a 35-7 lead before taking his leave for the evening.
Jackson had one more score in it though as Evan Spires found a wide open Jake Wood in the end zone for a 24-yard touchdown to put the finishing touches on the evening.
"After that one mistake on the opening kickoff, we were lights out the rest of the way in all phases of the game," Hall said. "Bo Landrum and Eli Broermann did great on special teams. We played both quarterbacks and they did a great job. Running backs ran hard and everyone else brought it. Good start to the season."
Winters finished 4-of-8 for 62 yards and a touchdown, while adding five carries for 88 yards and three scores.
Spires went 8-for-10 with 100 yards and a touchdown.
Wolford had 10 carries for 84 yards with a score, Prater caught three passes for 55 yards and a touchdown while Wood had two catches for 42 yards and a touchdown.
Jackson returns to action on Friday on the road against Ironton for the first time since 2014, renewing an old SEOAL rivalry.
"We definitely have to come out with more energy on the defensive side and fly to the ball faster," Winters said. "Ironton has good speed and a lot of skill, but we have to play aggressive and continue playing together."
"We got better and took care of business, but there's still a lot of mistakes we made that we can't make next week," Hall said. "We'll reevaluate, look over some film and get ready for a showdown."