OAK HILL — Ever since entering high school, Olivia Clarkson has been a staple in the Oaks' starting lineup.
As a four-year starter, she's seen just about everything there is to see and been through countless battle after battle.
She was a part of the starting lineup when the Oaks beat Wheelersburg back on December 3, 2018 — the last time the Pirates lost a game inside of SOC II action.
Now she's aiming to lead her team to back-to-back sectional titles as the Oaks travel to Sardinia for a rematch of last year's district final with Eastern Brown.
We caught up with Clarkson ahead of the Oaks' battle with the Warriors to talk about improving her game, the impact of head coach Doug Hale and much more.
Question: You guys can be a strange team and tough to figure out. But nonetheless, with all of the ups and downs, what has this season been like for you, and what have been some of the best moments?
Clarkson: We have always been a team that is unpredictable. Our outcomes of that have been good, but also haven't worked out in our favor sometimes. We have struggled some this season and lost games we should have won. However, we've learned and bounced back and have made up for it. We have learned this year how important it is to rely on your teammates, and play team ball in order to succeed. Some of the best moments we've had this year is really finally putting it all together offensively and defensively. We've won close games in double overtime against good teams. It was exciting and I think it really put into our heads, "We can do this."
Q: What areas of your game did you work on coming into the season and how have you seen it work out on the court?
C: Coming into the season I knew that I would have to step up for my team and look to score more than I have before. I really worked on my three-point range. Also, I focused on getting to the rim more this year and being more aggressive. I knew my defense needed to improve because I would be put on some tough competition in the league and tournaments as well. This season I have found myself more aggressive driving towards the rim and getting the opportunity to knock down my foul shots, which have definitely made an impact on some of our games.
Q: Being that you're a four-year starter, your team and teammates place a lot of responsibility on your shoulders with losing four seniors, including Caitlyn Brisker. How have managed to shoulder a huge load and accept that challenge as the leader of the team?
C: I knew coming into this season that I would have a huge responsibility as a leader, especially since we had people graduate last year. I also knew that Coach Hale would rely on me to be the leader this year. I have taken the challenge head on and really worked with it. It's a privilege to be a leader, especially with this team.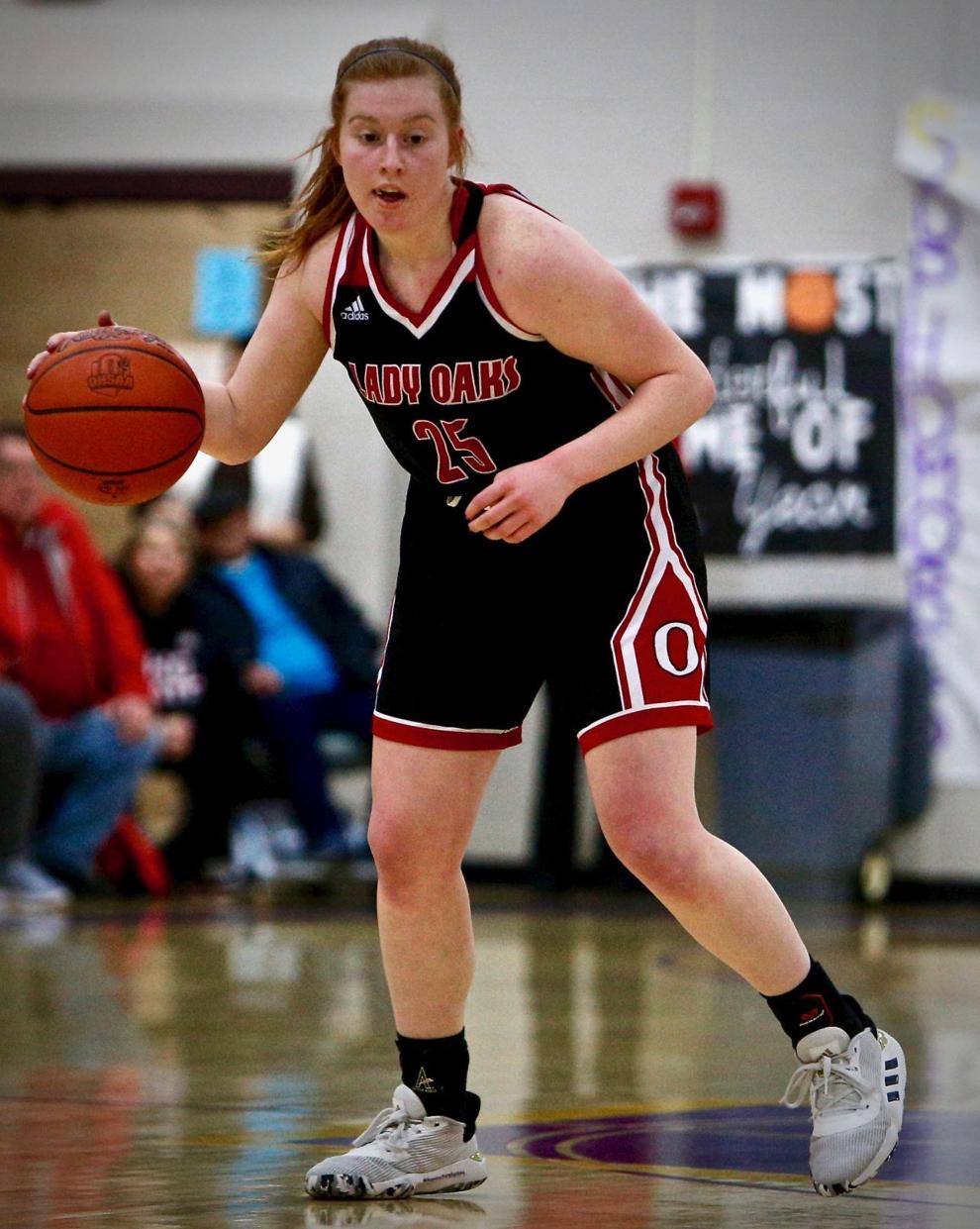 Q: Where/How did your love for basketball start? What has the game done for you and taught you personally?
C: I started playing the game when I was in third grade and my dad starting coaching me and the teammates that I have now. I realized that it was something that I love to do and actually want to do. Basketball has really given me so many friendships and relationships that I will forever be grateful for. I go to other schools throughout the season and have friends from everywhere because of this game. The game has really taught me about hard work and determination and how far it will get you.
Q: What has it been like playing for Coach Hale? How has he helped you become better player/person on and off the court?
C: I'll forever be grateful for the opportunity to play for Coach Hale. He truly cares for me and the team. He's selfless and sacrifices a lot for the team and for me as well. I started going to open gyms with Coach Hale in sixth grade and I think that is where I really started to know that I wanted to play for him. Since my freshman year he has always been on my tail. He knew when I was a freshman how much I could improve and how good I could be even when I couldn't see it. He's pushed me to become a better player, always pushing me in practice, and even some yelling when I need it. I wouldn't be half the player I am if it wasn't for him. Not only has he helped me improve on the floor, but he's also taught me a lot outside of basketball. You have to work for what you want. You don't just give up when things get hard, work and go get it. And that is something that has really stuck with me.
Q: Being that it's your senior year and the final time playing in tournaments, how does your mentality sort of change understanding that it can end at any point?
C: No one wants it to end. Especially your senior year. I have definitely changed my whole focus the past couple of weeks. The first tournament game before I went out I said to myself, "This is not going to be my last game." I know that I have to give it my all and play the hardest that I can, not only for myself, but for my teammates that do the exact thing for me.
Q: We talked about it Saturday, you guys will face Eastern Brown. How do you guys pull off what would be considered an upset and advance back to districts?
C: Coach Hale will have us ready. We're ready to play. We really need to focus on (Eastern Brown's Rylee) Leonard. She was a big asset for them last year, and she is even more this year. We have to close out their shooters. Rebounding will be a game changer for us. We need to make sure everyone is boxing out every time a shot goes up. Offensive boards and put backs will also be an important part of our game in order to win.