MCARTHUR — Despite being known more for its ability to put points on the board in a hurry, Monday was all about defense for Vinton County. 
It trailed for most of the evening, but locked down defensively holding Fort Fyre to 11 points in the second half and pulled out a 40-38 victory over the reigning regional champion Cadets, moving to 14-1 this season. 
"This was an all-around remarkable effort from a remarkable group of kids," Vinton County coach Rod Bentley said. "I couldn't be more proud as a coach of how they performed and how hard they played." 
A number of things could be pointed to as to how the Vikings changed their fortunes in the second half, but one of, if not the biggest key was keeping the ball out of Hannah Archer's hands. 
The junior forward was as hot as fish grease in the first half, going a perfect 4-of-4 from distance. But the Vikings tightened up defensively and forced her off the 3-point line, and ultimately held her scoreless in the second half. 
"During halftime, all we heard in the locker room was Hannah Archer's name being said from our coaches," Morgan Bentley said. "It all came down to communicating better on defense and recognizing where she was on the floor. We knew we couldn't give her anymore open looks." 
Vinton County started the game with a 4-1 lead, but Archer buried back-to-back treys to put the Cadets ahead 7-4. 
Liv Schneider and Lexie Huck additionally buried 3's to keep them ahead 13-9 after the first quarter. 
The Vikings had an answer of their own as Myriah Davis buried a pair of free throws, Morgan Bentley hit a jumper and then Tegan Bartoe found Ashley Bentley underneath for a 6-0 Viking run, and a 15-14 lead.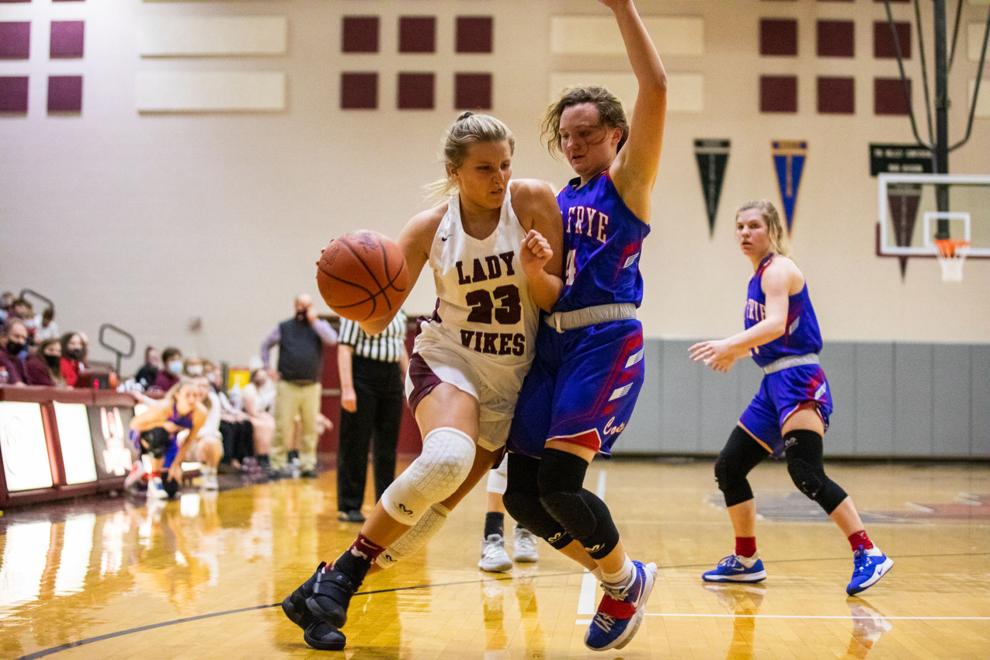 However, Archer buried her third and fourth shots from deep, followed by another one from Schneider for an 13-5 run to end the half with a 27-20 advantage. 
"We lost our assignments early on defense," Rod Bentley said. "Archer is one of the best shooters in the state, and we lost track of her a few times. But we went back to our scouting report, adjusted a couple things and came back with the mindset that we're not going to lose her." 
Lacie Williams scored the opening five points for the Vikings, and the tide began to shift just a little bit. 
Cameron Zinn scored the remaining six points in the quarter, but Huck knocked down a pair of shots that helped the Cadets maintain a 34-31 lead. 
It was time for the Vikings to make their move, and Bartoe connected from deep to tie the game before Davis got a steal followed by an assist to Zinn to put the Vikings back ahead 36-34. 
Minutes later, Williams buried a huge 3-pointer to keep the Vikings ahead 39-36. The Cadets had four free throws in the final two minutes, but only made two of them. 
The Vikings spilt a pair of free throws to make the game 40-38. Fort Frye had one final shot as the seconds ticked away and put up a 3-pointer that hit the iron and bounced out with two seconds left before the final buzzer sounded for the Viking win. 
"Last year, I don't think we were mentally ready to play them when we stepped off the bus," Morgan Bentley said. "We told ourselves that there's no way they are coming here and beating us. They were undefeated and we wanted to knock them off the same way Dublin Coffman did to us.
"This was a huge game for us because of that loss. Although we didn't put up as many points as we usually do, we played as a team and communicated so well on defense with switching screens and rotating." 
Davis finished with game with nine points and three assists for the Vikings, followed by eight points from Williams alongside eight points and six rebounds from Zinn. 
Vinton County returns to action on Thursday at home against Nelsonville-York in TVC action. 
Fort Frye: 13-35 FG, 4-9 FT, 8-19 3pt., 14 rebounds (Medley 5), 12 turnovers, 7 assists (Dalton 4). Scoring: Archer 12, Huck, 10, Schneider 8, Medley 5, Dalton 2, Ross 1. 
Vinton County: 14-33 FG, 7-9 FT, 5-15 3pt., 21 rebounds (Zinn 6), 15 turnovers, 8 assists (Davis 3). Scoring: Davis 9, Zinn 8, Williams 8, Morgan Bentley 7, Bartoe 6, Ashley Bentley 2.