MCARTHUR — To quote one of the oldest sayings in the book, "Leave things better than you found it".
For the last seven years, Vinton County's Rod Bentley has sunk every ounce of blood, sweats and tears into completely transforming the state of the Lady Vikings' program.
Bentley took over the program in 2014 with just eight varsity players on the roster. In true fashion, he made the best of the situation and finished with a winning record, something he accomplished every season.
What started out as an average program was turned into a powerhouse throughout Southeast Ohio over the past three years, before going statewide.
"I think the biggest accomplishment was generating excitement and getting girls who wanted to play to come out and play basketball," Bentley said. "We've been lucky to carry over 20 kids in the program over the last five years, which has helped us become the program we are today."
Those years of hard work and grit all culminated this past season with the greatest season in Vinton County history.
26-2. TVC champs. Division II sectional champs. First-ever district and regional champs. State runner-up.
It was the ultimate thrill ride of a season, but once the Vikings stepped off the court for the final time after the state championship, a decision had to be made.
And after thinking about it for weeks on end, Bentley made the tough decision but one he felt was necessary, which was to step down as head coach of the Vikings after seven seasons.
"This was the hardest decision I've ever made in my life," Bentley said. "I'm a basketball junkie, and I've been coaching for years on end.
Could I still coach this year? I probably could, but my heart wouldn't have been all the way there because of the things my family is dealing with.
"I'm not someone who half commits, and I knew that I couldn't do it. I'm stretched too thin, and I think now was the right time for me to take on a different role. It's nearly May and I want the girls to be preparing for next season, but I know I can't be that leader right now."
In Bentley's career, he complied a total 120-42 record which includes five TVC and sectional titles (2016, 2018, 2019, 2020, 2021) alongside the district and regional title this season.
He was named TVC (2016, 2018, 2020, 2021) and District 13 Coach of the Year four times (2016, 2018, 2019, 2021).
Then came his biggest honor at the very end of the season, being named Division II Coach of the Year.
"Each year presents its different challenges, and coaching has taught me to adapt and be stronger," Bentley said. "I've been lucky to have a great group of girls every year who keep pushing to be better, and that's only made me want to do the same with them and for them. They all come from great families and although I put in a lot of work, they put in just as much, if not more some days."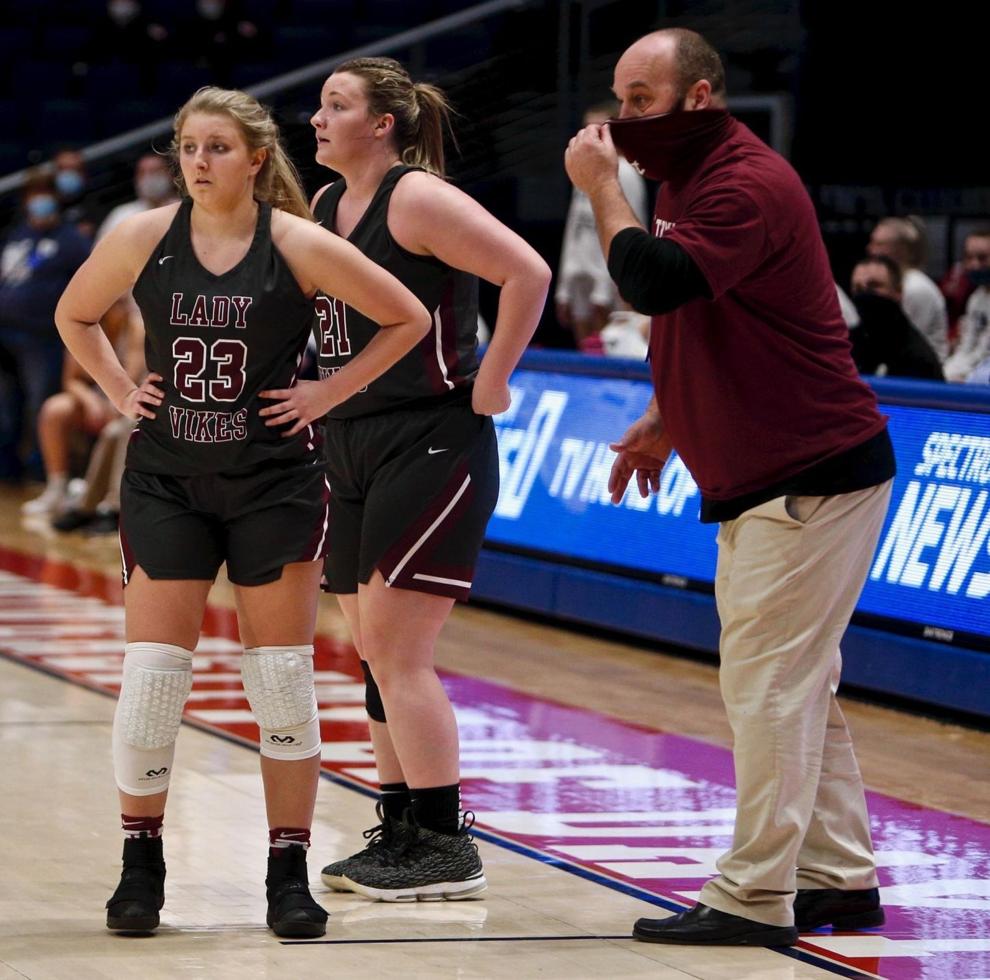 The wins are great, especially having 120 of them. But it's two of the losses that Bentley says truly marked when the program reached the next level.
And it's not because of getting revenge on those teams, it was all about how the team responded and showed its character in doing so.
"Those two district championship losses changed everything," Bentley said. "What I loved most about those losses was watching the girls come back and know that they'll be ready for whatever challenges are thrown at them next. They're such smart and resilient girls."
Coaching is in his blood, so it only made sense that he also got the chance to coach his blood being his three daughters — Cassie, Morgan and Ashley.
Cassie and Morgan played together in the 2017-18 and 2018-19 seasons, while Morgan and Ashley spent this season on the state tournament ride of a lifetime.
"Our family lives the sport of basketball, and to do it at home and in the community and across Southeast Ohio, it's pretty special," Bentley said. "Cassie and Morgan were both District Players of the Year. I'll keep working with Ashley and hopefully she can be one as well. I'm proud of all of them."
Although Bentley is riding off into the sunset for now, even he knows that he'll be back on the bench one day.
Who knows when and where it'll be at, but until then, the memories and support from the last seven years in McArthur will forever be held in high regard.
"It's hard to explain how good Vinton County has been towards myself and my family," Bentley said. "Coaching here has been one of the best things to happen to me in my life, and the amount of support the community gave our program is unbelievable. There aren't enough words to do it justice. Vinton County is one of, if not the best community to coach in. It's special."
But he did have one final message to the girls in true coach form:
"Go win another district championship."