MCARTHUR — "Wheelersburg came out last year ready to play, and put a smackdown on us. We wanted to do the exact same this time around."
That quote from Vinton County's Tegan Bartoe perfectly describes exactly what transpired on Wednesday.
The Vikings used a 2-3 zone, not allowing the Pirates to get the ball instead for higher percentage shots. Meanwhile, the Vikings shot over over 55 percent inside the paint as they defeated the Pirates 63-45, moving to 7-0 on the season.
"We want to have a variety of defenses that we can play, and this was the first time we've really ran a 2-3 zone for an entire game," Vinton County coach Rod Bentley said. "We were dialed in defensively, one of better performances on that side of the ball. I'm so proud of the girls and proud of their attention to detail."
The Vikings are more known for launching shots from distance, which they still did 23 times on the evening. But the threat of the 3-ball opened up clear lanes for cutting to the basket.
Whether it was Bartoe, Cameron Zinn, Lacie Williams or Myriah Davis, someone was getting an easy look at the bucket as all four of them finished with double figures in scoring.
"Wheelersburg is roughly about the same size we are, but we have a little height and speed than they do, so Coach just kept telling us to attack," said Bartoe, who finished with 14 points.
Williams started out hot from the floor, burying a triple followed by a cutting to the bucket for the lay-in as the Vikings jumped ahead 7-2.
That hot start continued to snowball as Zinn scored a pair of buckets and helped the team to a 15-7 lead after the first.
"Lacie hasn't started the season the way she wanted, but she's a deadly shooter and we believe in her every time she takes the floor," Bentley said. "When she gets on a roll and finds the zone, she's tough to stop."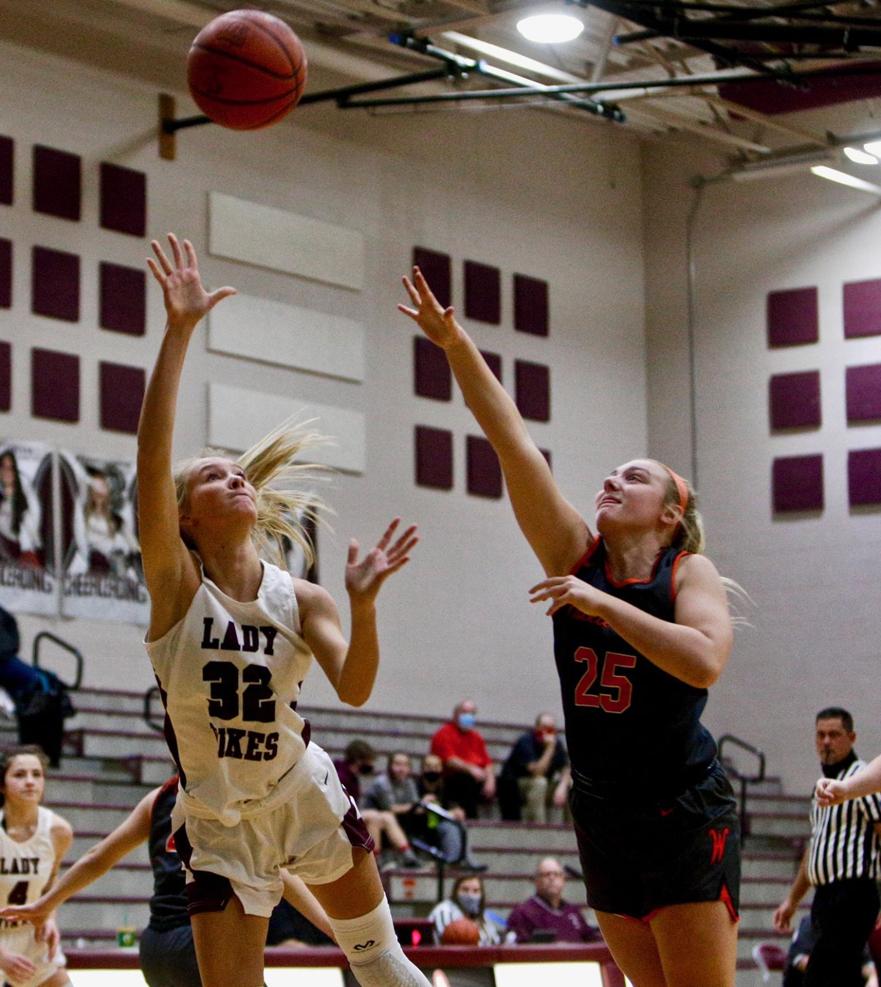 The lead eventually hit double digits and stayed that way for the remainder of the night.
The Pirates couldn't buy a bucket nor find a way to successfully penetrate the Vikings' zone defense. Meanwhile, Ashley Bentley scored inside and Bartoe connected from distance to push the lead to 27-12 with 2:23 left.
Although Wheelersburg outscored the Vikings 11-8 in the final two minutes, they still held a comfortable 35-23 advantage at halftime.
Kaylee Darnell converted a pair of bucket to open the third quarter and cut the game down to 40-29. However, Zinn came up defensively with a pair of steals and assists on the next two possessions, pushing the lead back up to 15 points.
From that points on, Davis began heating up and scored 11 of her game-high 18 points in the second half as the Vikings coasted to a victory.
"It's great seeing Myriah play again. She's so good and gives us more options offensively," Bartoe said. "Whether it's kicking it out for a 3 or driving to the rim, she can do it all. And she plays really good defense, makes us a more complete team."
After Davis and Bartoe, Williams finished with 14 points while Zinn had 10 points, eight rebounds and six assists.
The Vikings play Huntington at home on Saturday, before an undefeated TVC showdown with Alexander at home on Monday.
"We have so much respect for Alexander, and they just knocked off a top-ranked Circleville team," Bentley said. "They're playing as good a game of basketball as anyone is, so we have to play attention to details just like we did for this one."
Vinton County: 15-20-12-16
Wheelersburg: 17-43 FG, 5-11 FT, 6-18 3pt., 14 rebounds, 13 turnovers, 4 assists. Scoring: Darnell 20, Keeney 10, Kallner 5, Walker 3, Whittaker 3, Jolly 2, Eaton 2.
Vinton County: 24-52 FG, 7-9 FT, 8-23 3pt., 33 rebounds (Morgan Bentley 9), 11 turnovers, 13 assists (Zinn 6). Scoring: Davis 18, Bartoe 14, Williams 14, Zinn 10, Morgan Bentley 5, Ashley Bentley 2.