MCARTHUR — This senior class at Vinton County has no idea what it's like to lose on the court to Alexander.
And that wasn't a feeling it intended to find out on Monday.
In a battle of undefeated teams, the Vikings suffered the Spartans defensively to the tune of 22 turnovers as it took over sole first place in the TVC with a 58-41 victory, moving to 9-0 on the season.
"Alexander is our biggest rival in the TVC, so we know it's going to be a battle everytime," Vinton County's Morgan Bentley said. "We really only had one day to prepare for them this time, but we wanted this win badly and we came out focused."
Bentley herself came out and started most of the wreckage, and her teammates just followed her lead.
Alexander had no answer for her in the first half as the skilled senior used every part of her game to decimate it play after play.
Whether it was scoring, rebounding or assisting, she did it all and turned in a first half of 13 points, nine rebounds and four assists before finishing the night with 18 point, 10 rebounds and four assists.
"My 3's haven't been falling as much in the past few games, so I had to change my game a little bit," Bentley said. "My mindset was to get to the rim more and then create a shot or pass to the open shooter if I got into the paint. I kept that focus all game, and it seemed to work out pretty well."
Bentley started the game with a bucket, followed by two assists to Cameron Zinn for a quick 6-0 lead.
That quick start set the tone for the entire night, and the Vikings continued attacking as Bentley was a force on the boards. She finished with nine points and six rebounds in the first as the Vikings led 20-7 heading into the second following a triple from Allison Riddle.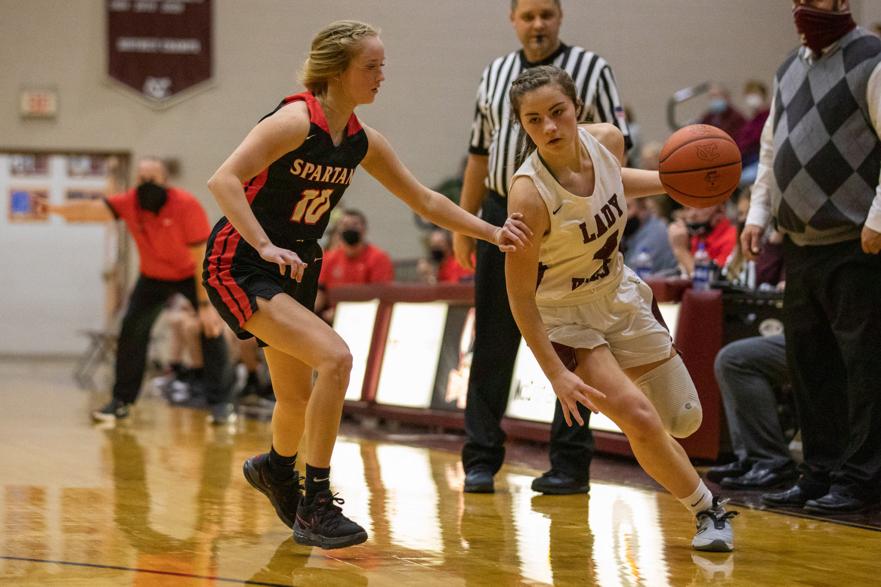 After a rebound and putback from Bentley, Tegan Bartoe buried a triple that pushed the lead up to 26-10 as Alexander continued to search for an answer on both sides of the ball.
Defensively, the Vikings did two things in the first half; double-teamed Marlee Grinstead and allowed Kara Meeks to shoot whatever open shot she was able to take.
Both plans worked as Meeks logged just one point on the night, while Grinstead made some turnovers that turned into points on the other end for the Vikings.
Chloe Hayburn came off the bench and defensively shadowed Grinstead all across the court, minimizing her ability to make a play herself or create one for her teammates.
"Chloe is one heck of an athlete, one of the best you'll see in the district physically," Vinton County coach Rod Bentley said. "She did a great job on Grinstead. We know that everything Alexander does revolves around her, and understandably so because she's a great player. Cameron (Zinn), who is probably our best defender was in foul trouble, and Chloe came right in and played a great quarter of defense."
Meanwhile, Bentley and Bartoe continued to shoulder much of the offensive load as the Vikings held a 36-22 lead at halftime.
Although the duo cooled down a little bit in the third quarter, that opened the door for Myriah Davis to come in and make her impact felt.
The Vikings' lead never dropped down below double digits as Davis scored 10 of her 14 points in the second half to put a bow on the win.
"If I'm being honest, I don't think we played to our potential and played down to Alexander's level," Rod said. "We played much better in the Wheelersburg game, which is a whole different level. But we'll take the win, improve on some things and get ready for the next game."
In addition to Morgan Bentley and Davis, Bartoe finished with 13 points and eight rebounds alongside three assists.
Vinton County returns to action on Thursday at home against Meigs in TVC action.
Vinton County: 20-16-16-6
Alexander: 16-44 FG, 7-8 FT, 2-10 3pt., 25 rebounds (Grinstead 8), 22 turnovers, 6 assists (Spurlock 3). Scoring: Grinstead 16, Mace 6, Spurlock 6, Casto 6, Meeks 1.
Vinton County: 21-60 FG, 8-12 FT, 6-29 3pt., 32 rebounds (Bentley 10), 12 turnovers, 9 assists (Bentley 4). Scoring: Bentley 18, Davis 14, Bartoe 13, Zinn 4, Riddle 3, Williams 3, Ousley 3