MCARTHUR — Head coach Rod Bentley likes to joke that Vinton County is in the middle of a one light town.
However, that light is always green when it comes to the Vikings.
They buried four 3's in the first quarter and overwhelmed Waverly on their way to a 76-43 victory on Tuesday in a Division II district semifinal.
"There are times as a coach where you work behind the scenes a lot and you think sometimes what you're saying to the girls goes in one ear and out of the other," Bentley said. "But this was a solid reminder that they listen and execute gameplans to a T. I couldn't be more proud of them for how they battled and translated everything from practice and the film room to on the court."
Part of the Vikings' first-quarter barrage was the effectiveness of both Myriah Davis and Lacie Williams.
Davis's shooting combined with Williams' sneaky offensive rebounding was all the Vikings needed to set the tone.
Davis buried a pair of 3's and outscored the Tigers alone 12-10 in the first quarter, and the duo outscored them 29-22 in the first half.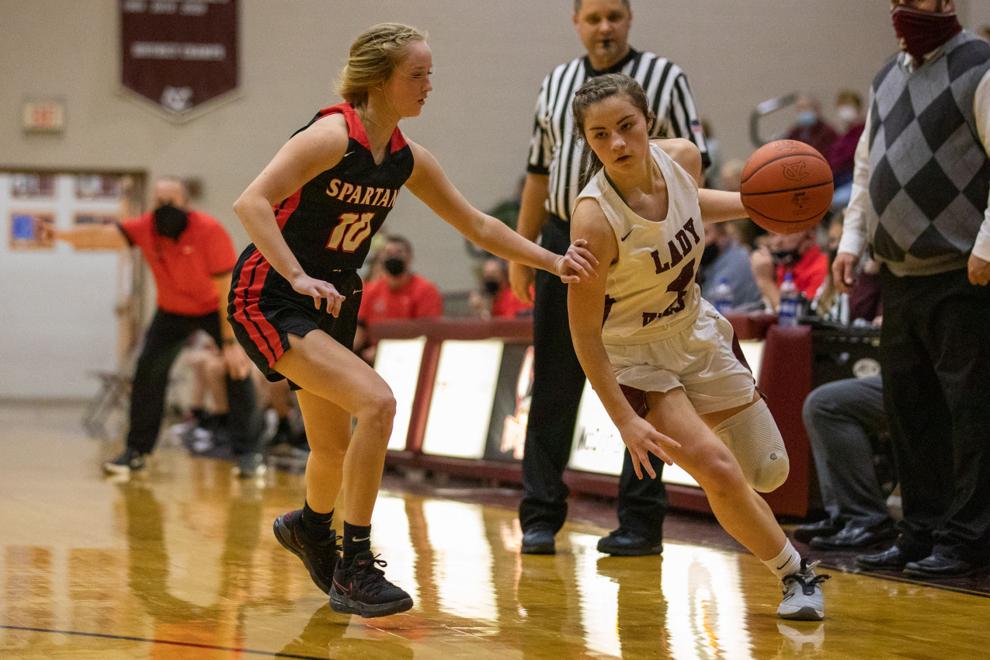 In total, they connected on seven of the Vikings' eight 3's on the evening. Davis finished with 22 points while Williams netted 17 points.
"You can guard Cameron (Zinn), Tegan (Bartoe) or Morgan (Bentley), but you can't guard all five of our players," Bentley said. "Every player has the green light to shoot the ball, and we do a good job of finding those players who have a rhythm. They're outstanding players who can go off faster than you can blink."
While Davis and Williams led the charge offensively, the defensive effort focused on keeping Waverly out of the driving lanes.
That led to a lot of half-court offensive play, which turned into 12 first half turnovers as the Vikings maintained a double digit lead from the first quarter until the final buzzer.
"(Waverly's) Zoiee Smith is one of the best players in Southeast Ohio and a true point guard in every way," Bentley said. "She sees the floor as well as any player possibly could. We threw multiple bodies at her and defended her in different ways whether it was purely face guarding or using our length side-to-side."
Alongside Davis and Williams, Cameron Zinn finished with 20 points, 15 rebounds and eight assists, while Morgan Bentley had nine points, 11 rebounds and four assists.