McARTHUR — The opening night jitters got the best of Vinton County early, but in true champion fashion, it figured things out down the stretch.
It also helps that it created open looks for Lacie Williams to fire away.
The senior guard caught the hot hand, drilling four 3's in the fourth quarter and finishing with 18 points to guide the Vikings to a 64-44 season opening victory over Jackson on Monday.
"I was definitely struggling in the first half of the game," Williams said. "But Rylee (Ousley) and Lakin (Williams) hit some big shots to keep our confidence up. They kept telling me, 'Shooters shoot,' and finally I hit one, then another one and my confidence was up so I knew they were all going in after that."
In addition to the opening night win, it also marked the first varsity head coaching victory for Brett Jones.
"All credit goes to the girls for how they stayed composed in the second half and I'm super proud of them," Jones said. "I'm just excited to take things one game at a time, but hopefully there's some more wins to come."
Neither team was able to build a solid rhythm in the first quarter, almost like there was a lid over the basket most of the time.
They traded sporadic buckets through the opening eight minutes, but a shot from Chloe Haybron was the difference as Vinton County led 11-9.
Although it continued to maintain the advantage, that changed as Jackson's Sydney Hughes connected on back-to-back triples to put it ahead 19-16.
However, the Vikings countered back with a pair of 3's from Rylee Ousley and one from Lakin Williams down the stretch before a Katelyn Webb bucket at the buzzer make it 29-26 Vikings at halftime.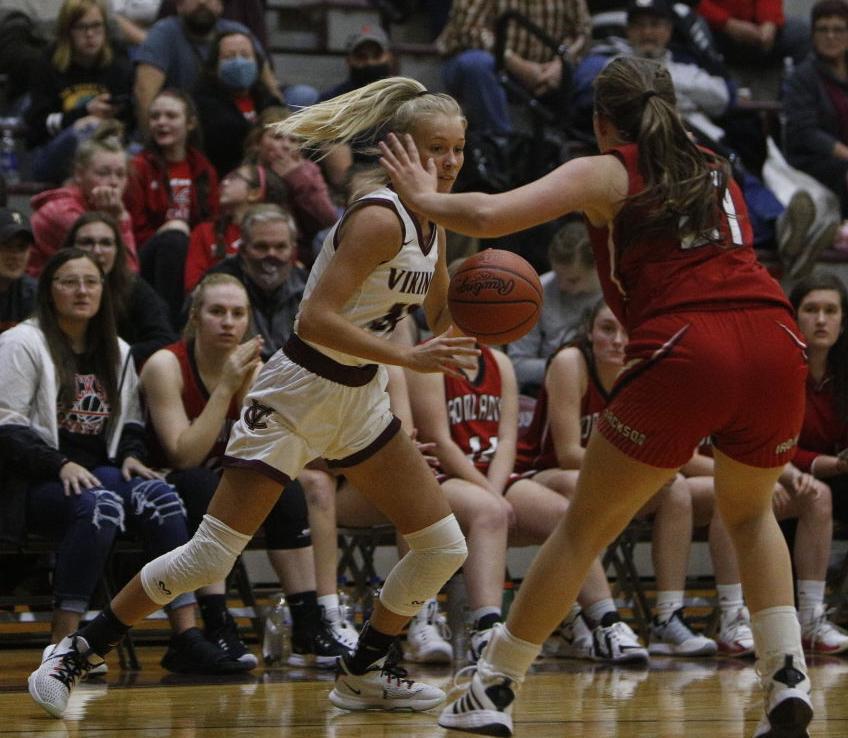 "With Cam (Zinn) in foul trouble and Jackson taking away Tegan (Bartoe), I knew I had to step up for us," Ousley said. "I've been shooting the ball pretty well during practices, so I took the open shots when I had the chance."
"We shot I think 20 2's and 12 3's, and I wanted our shots to be a little more towards the inside since we rushed some shots," Jones said. "But, offensively, we felt fine. Defensively, we switched some things up and decided to go with more of a zone look to stall their offense. Jackson competed tough and got us out of rhythm, so we had to counter back."
Jackson continued to apply pressure and take the fight to Vinton County, yet it just couldn't seem to get that extra basket it needed.
Trailing 36-33, it missed a bucket, and Lakin Williams drilled a triple on the other end to extend the Vikings' lead to two possessions.
Bartoe added two buckets and then Ashley Bentley took over the rest of the way, scoring the final five points to cap a 12-2 run and push the lead up to 48-35 heading into the fourth.
"Lakin hit some big shots and the work she's being putting in during practice pays off in those type of moments," Jones said. "Ashley is an absolute weapon offensively, and we have to utilize her more and more. Both did a job off the bench on both sides of the floor."
That set the stage for Lacie Williams to close the night.
Jackson cut the lead down to 48-40 with four minutes left in the game, and that's when she began to hit her hot streak.
One triple after another turned into four straight daggers that completely ended any chance Jackson had of mounting any type of rally.
"The biggest thing for us was that we didn't get in our own heads in the second half," Lacie Williams said. "We've had our struggles before when leads weren't as big, but we remained calm and just played our game."
After Lacie Williams' night, Ousley finished with 10 points and five assists while Zinn added 10 points.
For Jackson, Hughes finished with 16 points, followed by Kenzie Davis with 13 points.