ATHENS — The Jackson Ironladies were struggling to find their shot for most of the first three quarters on Thursday.
Once a few jumpers went in, they were finally able to breath a little easier against an Athens team that was up for the challenge.
Jackson used a 16-2 fourth quarter run to pull away from the Bulldogs, winning 44-32 at McAfee Gymnasium.
The Bulldogs were fighting on the defensive end, and trailing just 28-24 entering the final frame.
Jackson's Mattie Walburn opened the fourth with consecutive baskets.
The first came on a jumper to the left of the foul line, on a feed from TJ Carpenter.
The second came on a baseline drive, with Walburn pulling up and sinking a shot for two more points.
Finally, Carpenter was able to dish out to Katelyn Webb, and her 3-pointer from the right wing allowed Jackson to lead 35-24.
The Ironladies entered the fourth quarter just 9 of 47 from the field, but those three makes to start the quarter provided a lead Athens would have a hard time coming back against.
"We missed a lot of layups too, a lot of stuff around the rim," Jackson coach Matt Walburn said. "These kids will grind it out, keep firing it. We finally hit a couple buckets that got us started. We went on a nice little run."
Up until that point, Athens was able to slow the game down and keep within striking distance of Jackson (4-7).
Athens (1-9) had erased a nine-point deficit in the third quarter, but wasn't able to duplicate that feat in the fourth.
"We were trying to slow down and control the game," Athens coach Phil Koska said. "Just play our game. We've got to really buckle down and work on that."
Once Jackson built up the double-digit lead, freshman Kenzie Davis made sure Athens got no closer.
She scored seven points in a row for the Ironladies, scoring off consecutive feeds from Sydney Hughes at one point.
Davis' two free throws with 2:21 remaining gave Jackson a 42-26 lead.
Davis led the way for Jackson with 15 points, 11 rebounds, four steals and two blocked shots.
Davis battled most of the night against Athens' center Haylie Mills.
Mills more than held her own with seven points, 14 rebounds and eight blocked shots.
"She did excellent tonight," Koska said. "I was very proud of her. She controlled the paint for the most part. She was boxing out. She was getting the rebounds, playing straight-up defense like we've been trying to get her to do. We know she can do it."
There were a lot of numbers to like in regards to Athens' defense. Led by Mills, the Bulldogs had 12 blocks as a team, as Harper Bennett and Emily Zuber each had a pair. Athens won the rebounding battle, 44-37.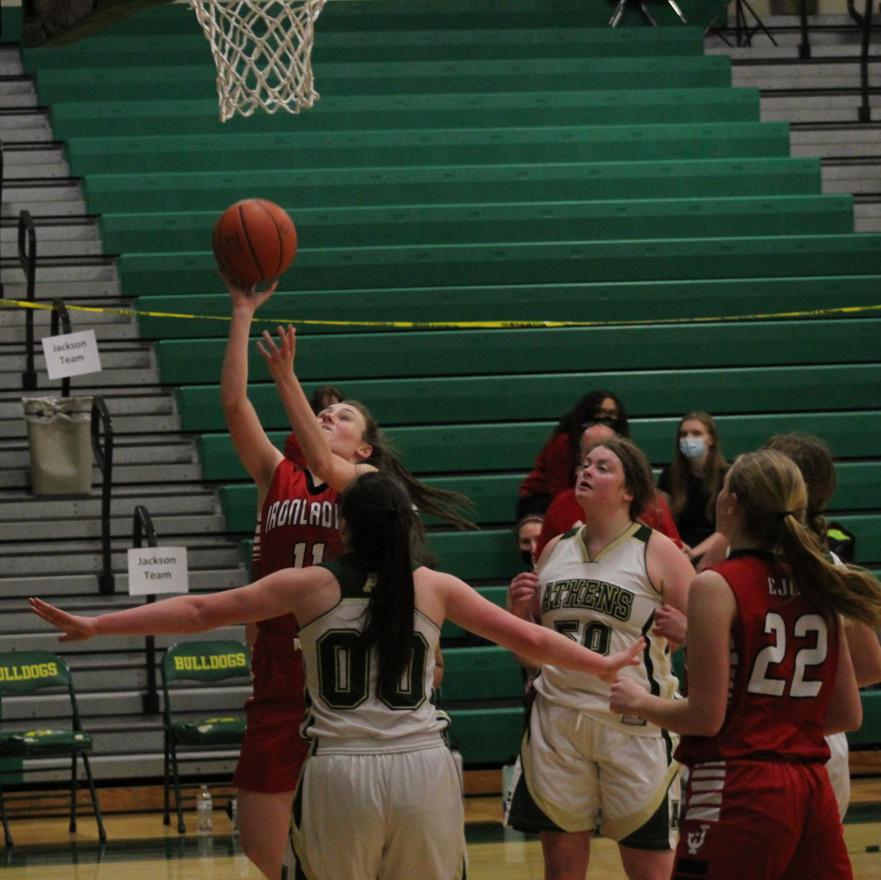 Athens also held Jackson to 25.9 percent (15 of 58) shooting for the game.
"Trying to play solid defense has been our focus the last few games and we've been executing fairly well and getting people back this week has really helped," Koska said.
A key statistic in Jackson's favor was turnovers, as the Ironladies were guilty of only 12 in the game. Athens committed 29 turnovers, and as a result had 12 fewer shot attempts.
Despite those results, Matt Walburn said Jackson's defense can do better.
"It just wasn't one of our better efforts and we pride ourselves on our defensive effort," he said. "Probably more than anything, there wasn't much communicating. There wasn't much talking to each other, helping each other up. That mentality of, 'Let's go get this one. Let's win on the defense end.'"
Jackson built up a 22-13 lead at halftime, but Athens would rally back to tie the game.
Bailey Davis' 3-pointer brought the Bulldogs to within 22-18, and Bennett set up Mills for a layup inside to make it 22-20.
Mills would later sore on a put-back basket, and Athens had tied the contest at 22-22 with 4:04 left in the third quarter.
"We jumped out and we came out we started executing and things started going in our favor," Koska said. "I was hoping to carry that momentum into the fourth quarter."
Jackson didn't blink, with Carpenter scoring six straight points. The final basket came on a steal and layup for a 28-22 advantage.
Carpenter finished with eight points, 11 rebounds, five steals and three assists.
Mattie Walburn added nine points and four steals for the Ironladies, while Webb had five points, three steals and two assists.
Jackson has four freshmen in the starting lineup, surrounding the junior point guard in Webb.
The young lineup is already making strides. Jackson had just five wins combined the last two seasons, but is already a win away from matching that total this season.
Thursday's game didn't always go the way the Ironladies planned, but it's all part of the learning process.
"We're happy to get a win," Matt Walburn said. "Been hard to come by the last couple of years at Jackson, so we'll work on getting better."