JACKSON — For the past four years, Jackson's Collin Ghearing has raced up and down the soccer field playing the game he loves with a passion unmatched by any other player.
That passion and drive to improve every day has now turned him in a collegiate athlete.
The now Jackson High School graduate signed a letter of intent on Wednesday to continue his soccer career at the University of Findlay.
"There are many reasons why I chosen the University of Findlay, the main one being the atmosphere that the school provides. The coaches there are great, with a lot of expert experience. The facilities are amazing, as well as the academics," Ghearing said. "I plan on studying nursing while attending the school, and they offer an amazing program which was everything I was looking at to being my next home. I'm really excited to get started on the next chapter of my academic and athletic career."
While putting pen to paper and making it official was the first step, the next step is getting on the field.
However, that step has a slight hurdle in front of it as he's currently recovering from a significant knee injury.
"I completely tore my ACL and had a slight tear of the Lateral Meniscus, so I'll have a late start," Ghearing said. "I have already had surgery and I'm in physical therapy now. It's a road bump that was placed in my path, but I'll be over it soon and come back stronger."
Throughout his career, he gained more responsibility and always came through for his team in its biggest moments.
He scored 24 goals (career-high 14 in 2019) and passed 40 assists (career-high 18 in 2018), playing in all 72 games for Jackson.
Those numbers earned him All-FAC three times, 2019 FAC Player of the Year, first-team All-District honors three times and a second-team All-Ohio nod.
"While playing for Jackson I did accomplish many great achievements that I'm very proud about," Ghearing said. "I worked hard everyday, and especially when no body was watching. All I've known for years was soccer, and having the dream of going as far as I can in the sport."
However, his greatest accomplishment came at the tail in of his senior year with a 1-0 victory over Chillicothe — their first victory over the Cavaliers since 2011.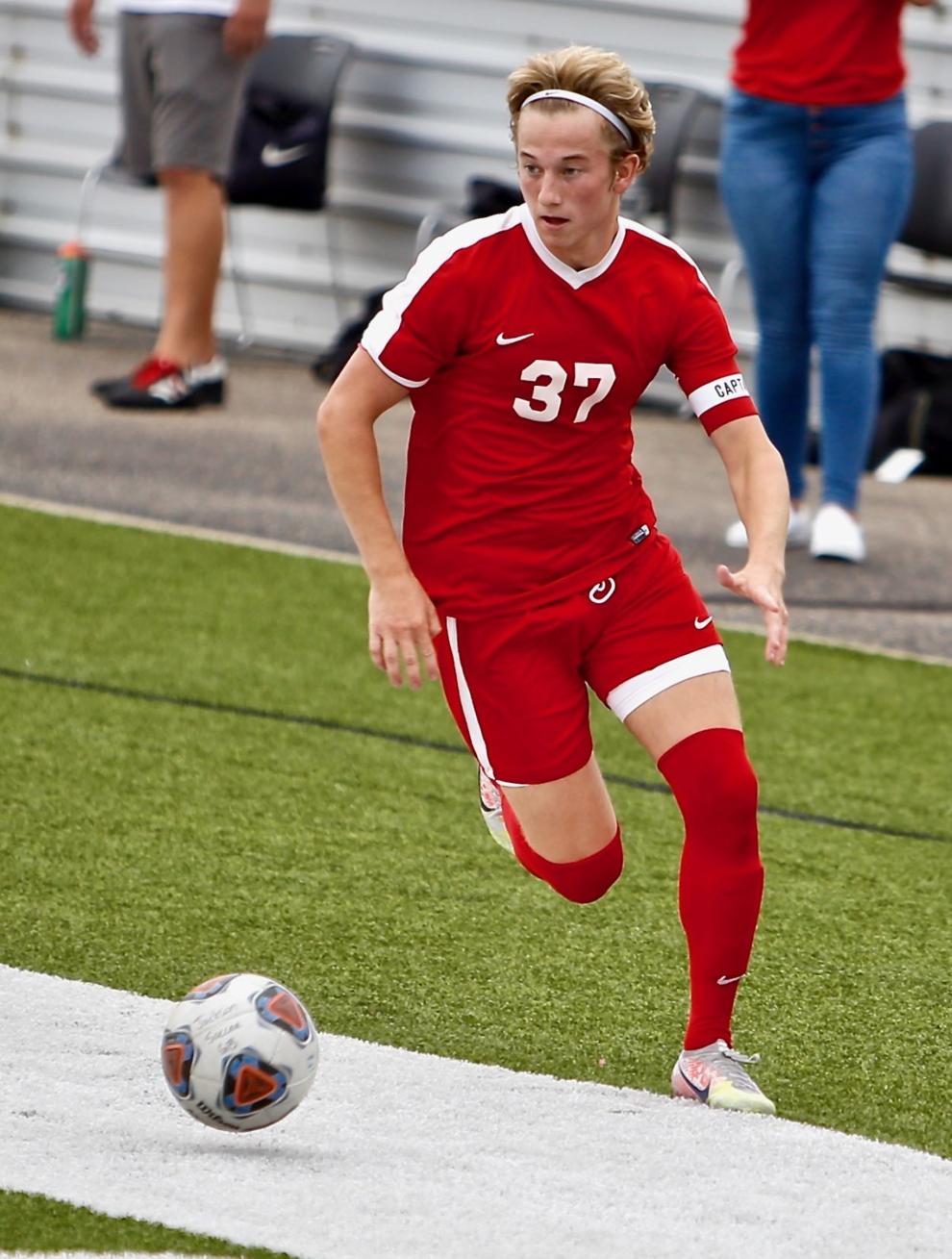 "I couldn't have received those awards without the other players out on the field with me. But my greatest accomplishment was the team splitting the league title our senior year," Ghearing said. "Due to the crazy season it was with COVID-19, and all the hard work we put in over the four years. That was an achievement the team deserved."
As part of the 2021 soccer class, Ghearning and company won 44 games, three sectional titles in a row and a share of the FAC championship.
It marked just the second time in school history a senior class won three straight sectional, cementing its place in Jackson lore.
Although he's now trading in his Jackson red for Findlay orange, he'll never forget all the lessons and accomplishments he alongside his fellow nine seniors had within the program.
"The four years I was at Jackson was a great experience. The senior class was a team that was always ready to win. We all worked hard every single day. The bond between all of us seniors was amazing. On and off the field we were all tight. Each and everyone one of us had each other's backs," Ghearing said. "It all carried over to the field, and the hard work ethic we all had each and every day. In the sport soccer, team chemistry is one of the most important factors in having a successful team. I'm going to miss playing with all the kids I grew up with. It's been an amazing run, and I wish all of them the best in their future.
"We all hope we taught the younger players at Jackson to always work hard. Never give up in a game, and keep fighting till the final whistle. Work hard in the practices you have every day, and make sure you have fun while doing it. Show up to the games ready to play, and make no excuses for anything. The time flies at Jackson High School so make the most of it."