MCARTHUR — Wellston has a rising star on its hands, and her name is Maddie Potts.
The freshman hurler wasted no time making an impact, tossing a one-hit shutout and striking out 10 batters to open TVC play as Wellston defeated Vinton County 6-0 on Monday.
"She did a great job of hitting her spots and located the ball really well," Wellston coach Jim Hall said. "Both teams played at a very slow pace and no one really except for Maddie found a good rhythm. Just one of those kinds of games, we stranded seven or eight runners but we got the run support needed."
In doing so, the Golden Rockets also handed the Vikings their first loss of the season.
"We know that everyone is gunning for us in the TVC, so to start off conference play with a win is great," Hall said. "We're going to get everyone's best shot so we have to be ready to match it and bring our best as well."
Despite both offenses having their struggles, all eyes remained on Potts as she dazzled in just her third varsity start for Wellston.
She kept Vinton County off balance with a mix of pitches, but used the entire plate to manipulate the strike zone and keep the Vikings guessing.
"I knew my team was behind me the whole way, so I just wanted to finish what I started," Potts said. "I got into a zone in the first inning from the start."
While Potts remained the zone in the circle, her team struggled at first to give her run support. But in the top of the third, Wellston caught a break. After a fielding error extended the inning, Kamryn Karr laced an RBI single to left center field, scoring Sadie Henry for a 1-0 lead.
"It was tough for us to hit Abby (Faught) and then Kerrigan (Ward) as well," Hall said. "They made things difficult for us, but we had a couple solid hits to generate some runs."
Two innings later with Wellston leading 2-0 following Emma Ingalls scoring on a passed ball, Makenna Kilgour took the first pitch she saw and sent it over the left center field fence for a solo home run, extending the lead to 3-0.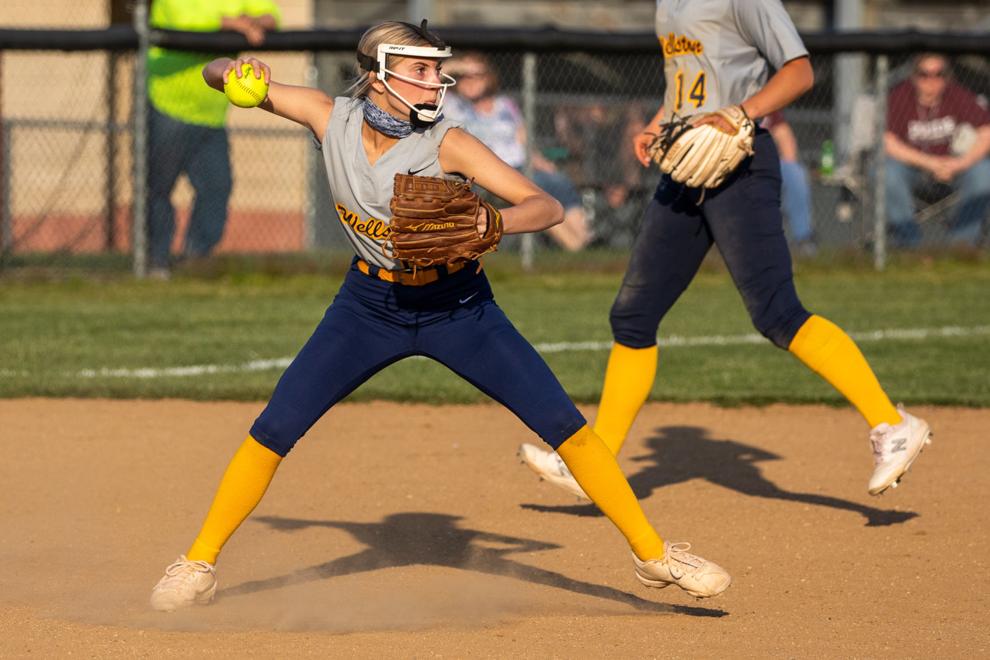 Later in the inning with runners on second and third, Neveah Ousley hit an RBI single into no man's land between shortstop and left field for a 4-0 score.
Still dominating, but now with run support, Potts continued to deal. What started with retiring nine straight batters turned into 12 in a row, then 15 batters and then 18 straight after a perfect sixth inning. Slowly, the potential of a perfect game started to become a realization.
After Wellston added another run following a Vinton County fielding error, Potts added to her cause with an RBI groundout to cap the sixth and final run.
All eyes were focused on her as she got strikeout No. 10 to start the seventh. But her prefect game ended after giving up a walk.
After nailing down out number two, she got the count to 0-2, but it wasn't meant to be as Abby Faught smoked a single back up the middle to end the no-hit bid before collecting the final out of the night.
"I had no idea I had a no-hitter, much less a perfect game going, I was just out on the field pitching," Potts said. "But it's incredible to play with these girls. I know that if a ball gets past me, it won't go much further because they're going to make the play."
"At the end of the day, we're just trying to win the league again and show everyone who the best team in the TVC really is."
Karr finished the night going 3-for-4 with an RBI, followed by Kilgour going 2-for-4 with a home run and Ousley added an RBI as well.
Wellston returns to action on Wednesday at home against Athens, while Vinton County travels to play at Meigs.