ATHENS — In the third inning of Friday's Tri-Valley Conference Ohio Division showdown, Wellston coach Jim Hall took a gamble.
Leading 3-0, the Rockets saw Athens put two runners on base against starting pitcher Maddie Potts.
Hall decided to go to the bullpen and bring in Kamryn Karr.
Hall noted a game earlier this season in which he went to Karr in relief and she responded.
"Potts was struggling a little bit," he said. "We just figured we'd try it again and it panned out for us."
Karr got the key outs when she needed them, and the Wellston Golden Rockets are still alive for a TVC-Ohio title.
Wellston won at Athens High School, 3-2, forcing a tie atop the league standings.
Both teams are 7-1 in the TVC-Ohio as the Rockets avenged their only league defeat, and handing the Bulldogs (14-4 overall) their first TVC loss this season.
"Definitely puts us both on top in the TVC," Hall said. "Whoever can hold it will be a great thing for either side. Everybody will be gunning for both of our teams, to ruin one of us."
Karr pitched the final five innings for Wellston (10-4), giving up only one run on a solo home run in the sixth by Abbi Ervin.
Karr didn't overpower Athens — she had four walks and one strikeout — but she made the pitches when she needed to.
"She's an all-around good ball player," Hall said. "She stepped up today."
Karr stepped up in a big way with the game on the line in the bottom of the seventh inning. Protecting a one-run lead, Karr walked Autumn Hembree on four pitches to put the lead-off runner aboard.
That allowed the Bulldogs to get back to the top of their lineup, and Olivia Banks stepped to the plate.
Banks and Karr locked into a nine-pitch battle before Karr got Banks to ground out to shortstop Jenna Johnston, who forced out Hembree at second base for the first out.
Johnston made another big play with Kateyanne Walburn at the plate.
Walburn lifted a foul ball just off third base, but Johnston was able to track it down on the run for the second out.
Olivia Kaiser was next. Karr got her to ground out to third baseman Alyssa Peterson on a 2-2 count for the final out of the game.
Karr had her feet to the fire, but was able to escape against Athens' best hitters.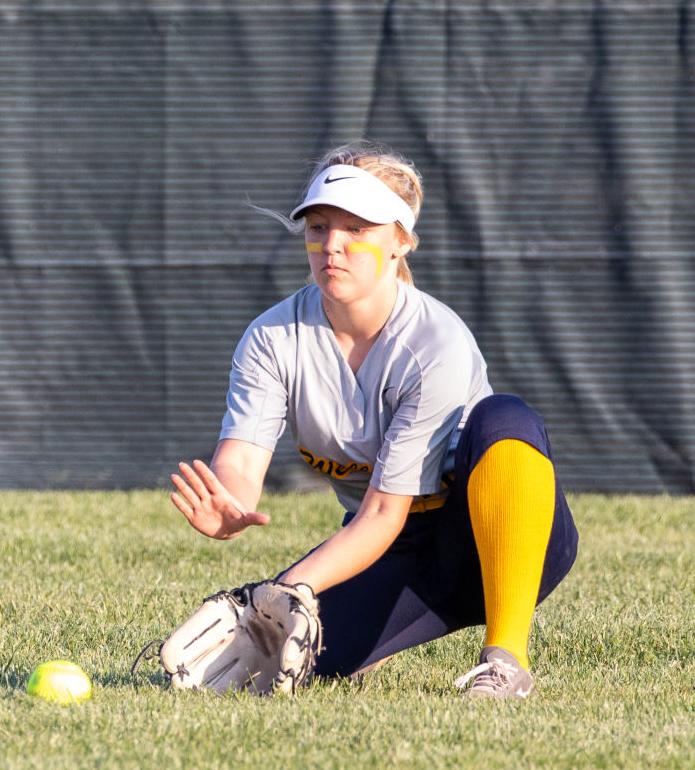 "Our kids weren't staying disciplined enough," Athens coach Roger Bissell said. "They were out in front of a lot of pitches. She pitched good to us. She hit the spots and we weren't adjusting."
It was a tough-luck loss in the pitching circle for Ashleigh James, who held Wellston to only three hits and retired the final 14 batters of the game.
The Rockets cashed in on their only opportunity to score against James.
With one out, Kenna Kilgour launched a double off the wall in left field. She moved to third on Neveah Ousley's sacrifice bunt, with Ousley reaching first on a fielding error.
That set the table to Johnston. Her double to left-center field scored Kilgour and Ousley, giving Wellston the 2-0 lead. She later scored on a passed ball for a 3-0 lead.
It was all the offense Wellston needed.
"It was definitely a key," Hall said. "The first few innings was the key to the game. Two good ball teams going at each other."
The third inning was the only frame in which Wellston put a runner on second base, and the Rockets never had another baserunner after Johnston's double.
James finished with four strikeouts and one walk.
Athens got a run back in the bottom of the third. Hembree hit a double and Banks drew a walk against Potts.
That's when the Rockets turned to Karr, who started the game in center field.
She got two quick outs, but a wild pitch would allow Hembree to score to make it 3-1.
The score remained the same until the bottom of the sixth when Ervin clobbered a 0-2 pitch out to left-center for a home run.
It was Ervin's second home run of the week — she also hit one at Logan — and brought Athens to within 3-2.
"Wellston knows that she bunts the ball, so that's been kind of taken away from us," Bissell said. "But Abbie can also swing the bat too. It's a nice weapon to have in the seven hole."
The race is officially on the rest of the way in the TVC-Ohio. Athens has games left against Meigs, River Valley, Alexander and Vinton County while Wellston still has to play Alexander, Nelsonville-York, River Valley and Meigs.