MCARTHUR — Out of the 17 girls events in Thursday's Vinton County Invitational, Jackson girls took a third place finish in nine of those events.
Needless to say, it was an unfair battle as the Ironladies were the class of the meet, taking first place with 108 points.
Vinton County earned 75 points, good enough for fourth place while Wellston finished in sixth with 46 points.
Kirsten Evans had herself quite the day on the track. She competed in four events, and took first place in three of those events; the 200 (29.05), 400 (1:04.55) and 4x400 alongside Olivia Kennedy, Olivia Sheward and Haleigh Hughes (4:25.92).
The other event she competed in was the 4x800 (11:10.93) with Hughes, Sheward and Abby Seimetz, good enough for third place.
Kennedy herself a day as well, re-breaking the school's 800 record that she set last month with a new time of 2:18.66.
She also took third in the 100 (13.42) and in the 4x200 alongside Lauren Elliott, Jade Winters and Kendal Osbourne (2:01.99).
Elliott, Winters and Osbourne later teamed up alongside Jenna Lewis to take third in the 4x100 (58.98).
Meanwhile in the field events, Elizabeth Perry took third in the long jump with a distance of 13-feet-7.75.
For Vinton County girls, Tristen Kirby was its star of the evening as she had a top three finish in every event she competed in.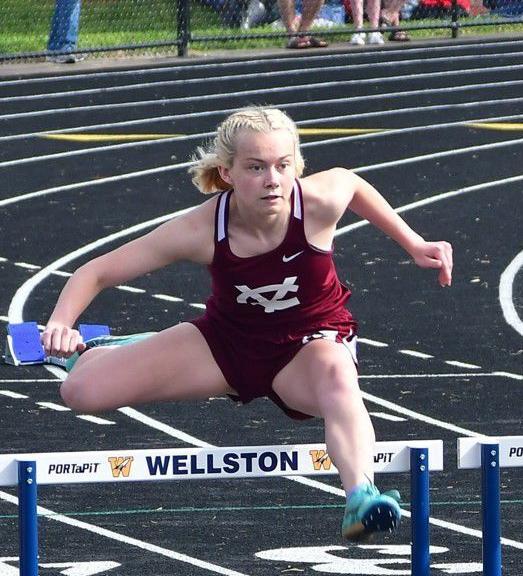 She started by winning the 300 hurdles with a time of 53.26. Then took second in the 100 hurdles (17.61) and second in the long jump (13-feet-8).
Then she teamed up with Olivia Mayers, Josie Mulhern and Ryleigh Ashmore in the 4x400, finishing in third (4:43.22).
Mayers additionally won the 1600 with a time of 5:47.21 and was a part of the first place team with Mulhern, Emily Reynolds and Savannah Perry in the 4x800 (10:54.18).
Reynolds earned third place in the 3200 with a time of 13:30.43.
On Wellston's side of things, Sheyenne Landis won the 3200 with a time of 13:04.07. Kimmi Aubrey won the high jump with a height of 4-feet-8 and took second in the 400 (1:07.24).
The team of Aubrey, Landis, Jayla Sawyer and Annie McWilliams took second place in the 4x200 (2:01.54).
Vinton County boys took third place with 85 points, followed by Jackson in fourth with 75.
Vinton County's Elijah Williams won the long jump (20-feet-2.5), and took second in the 100 (11.65) and 200 (24.25) before teaming up with Boomer Herrold, Lance Montgomery and Josiah Thacker to take second in the 4x100 (48.24).
The team of Blake Swaim, Braiden Bay, Matt Hembree and Caleb Lindner claimed third place in the 4x800 (9:42.83).
Montgomery, Hembree and Herrold later teamed up with Brady Woitz in the 4x400, taking third place (4:05.86).
For Jackson, Kaeden Fulton took first place in the 200 (23.95), and teamed up with Ty Jones, Nate Woodard and Caleb Hutchinson in the 4x200 to take first place (1:41.37).
He later took third in the 100 (11.71) and the 4x100 alongside Jones, Hutchinson and Broc Williams to take second place (48.56). Jones later competed in the 300 hurdles and took third place (47.96).
In the field events, Mitchell Mapes took third in the high jump with a height of 5-feet, while Broc Williams (17-feet-10) and Caleb Hutchinson (17-feet-9) took second and third in the high jump, respectively.
For Wellston, who finished in 11th place with 16 points, Brenton Brrech finished third in the high jump with a height of 5-feet-4.