McARTHUR — Anytime you ask Vinton County coach Rod Bentley about Vinton County senior Myriah Davis, he'll shower her with compliments, but always adds these two statements:
"She's a special player" and, "We would have won three straight district titles with her on the floor".
The more and more you watch her play during a game, the more you begin to realize that Bentley is correct.
And this tournament run shows it.
"This tournament run has been everything. This is something I have dreamed of," Davis said. "Making it to the Final Four is just one of the many accomplishments we have made this season. Everything I have been through and it being my senior year just makes it even more special and the fact that I get to do it with these girls makes it so much better. We give our all not only to win, but for each other. We play for each other and our amazing community that supports us every step of the way."
Davis ended the regular season averaging 13.5 points and three steals per game. But she's taken her game to another level during the postseason, putting up 18.4 points over the past five games.
This tournament run is special to Davis. Not just because it's her final year of high school basketball, but because of everything she's overcome to get to this point.
After transferring to Vinton County in her sophomore year, the first major injury of her career happened in the third game of the season.
She went to do a crossover against Meigs as she had done a million times before, but she went one way while her leg and knee went the other.
The final result after an MRI? A torn ACL, and more damage. Season over.
"My leg hyperextended. I felt a pop but it really didn't hurt I was just shocked," Davis said. "A few days later and after my MRI I found out that my ACL was completely torn in half, I tore my meniscus and also stretched my MCL, so I underwent surgery on December 18th."
Although the Vikings still made it to a Division II district final, they fell late in the game to Washington Court House.
Davis endured grueling hours/months of rehab and physical therapy to be ready for her junior year. Everything was going well as the Vikings started out the season 8-1 (Newark), and seemed to be clicking on all cylinders once again.
Then came a road test at Unioto, and in the second quarter of the game it happened again. It wasn't a torn ACL this time, but it was a meniscus injury. Although she finished the game, her season was done following another visit to the doctor.
"My first thought was I tore it again, but I got up and I actually played the rest of the game," Davis said. "I went and got another MRI and it was a new doctor. He said something about my meniscus and wanted to do surgery again, but I never did and just took the rest of the season off to heal it."
Once again, the Vikings still made it to a district final, but fell this time to Circleville to end the season.
Two seasons ended by season-ending knee injuries. While it took a toll on her physically, it was the mental hurdles and questions that were the toughest to overcome.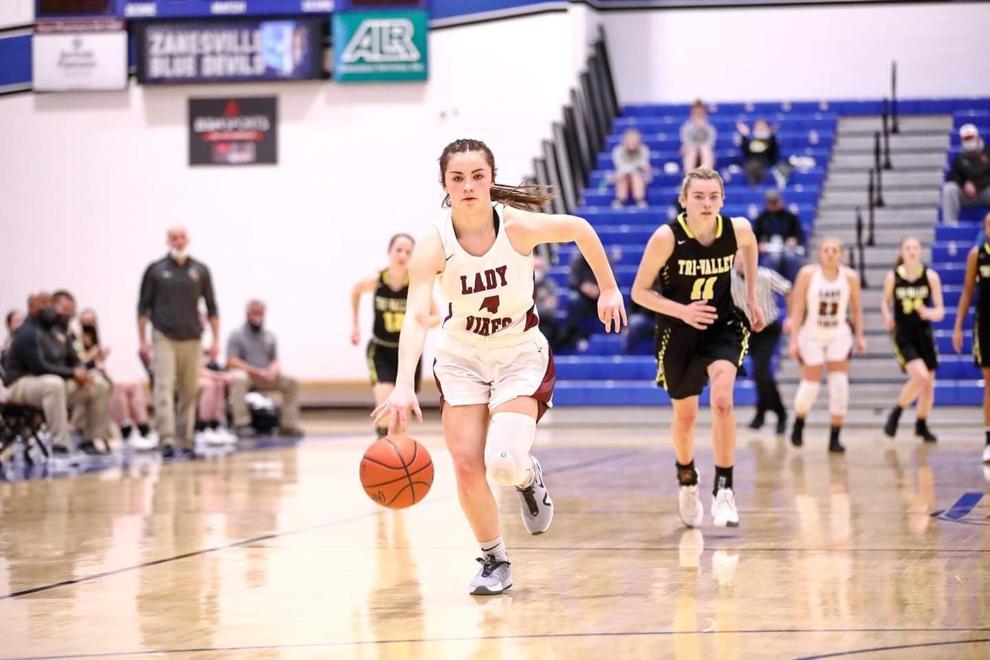 What if it happens again? Will I ever be able to fully trust my knee again? Those doubts creep into your head, but Davis continued on and prepared for her senior season along with one final run at an elusive district title.
"I just had to keep playing and not think about my knee which got hard at times. I knew that if something was going to happen, it was going to happen and I couldn't do anything about it," Davis said. "That was my mindset and that I had to trust God's plan for me no matter what happened.
"Coming back from ACL surgery and also having some other problems with my knee after I got cleared is definitely not easy. It was a long recovery. It really takes a toll on you mentally, but I knew if I wanted to play again I had to just get through physical therapy and push myself. I went three days a week 45 minutes away and it wore me out at times but that's why I'm back to playing."
She returned opening night against Jackson and dropped a game-high 25 points. Then came 17 against Nelsonville-York, 18 against Wheelersburg, and 14 against Alexander, twice.
Davis was back, and better than ever.
"It was such an amazing feeling to be back and to be playing with my girls. These girls have been there for me the whole time. They treat me like family and their parents treat me like family," Davis said. "They all have supported me in every way possible. I couldn't imagine playing with any other girls to finish my high school basketball career. This team means everything to me and I'm so happy to call all of them not only teammates but my sisters."
Simply coming back stronger from two injuries and making it through the season was a victory in its own. But it also gave her a new perspective, and realization about how deep her love for basketball truly is.
"Being healthy this year, my last year of high school basketball has really made me realize how much I enjoy playing basketball," Davis said. "From playing my whole freshman year to not even three games of my sophomore year, missing half of my junior year and to finally just be back to playing my senior year feels great. Just being out on the court instead of sitting on the bench is just such a good feeling.
"This season has been the best one yet, we have come a long way, but we aren't finished yet."
No they aren't. A healthy Davis has equated to a fourth-straight TVC and sectional championship, along with the first district and regional titles in girls basketball history for the Vikings.
Now they're aiming to do this weekend what no team in Vinton County history has done: win a state championship.
"We have two games left to be state champions. We didn't come this far for nothing. We weren't expected to make it this far, but we knew we had the ability to do it if we trusted each other and played for each other," Davis said. "We have made so much history this season and we aren't done yet, we're ready to make some more. We all have waited our whole lives for this moment and we've worked so hard, we deserve every bit of it. I believe in us, our community believes in us, but most importantly we believe in each other."
Davis's journey has been full of ups and downs. But no matter what happens this weekend in Dayton, she's going out a winner just by stepping onto the court.