JACKSON — Momentum in volleyball is a real funny thing.
It's an intangible feeling, yet it is completely understood when it decides to swing at the blink of an eye.
After being tied 1-1 heading into the third set, Washington hit another gear, and Jackson had no answer back as it fell to the Blue Lions 21-25, 25-16, 13-25, 23-25 in FAC action on Tuesday.
"We fought until the end, unfortunately though we got off to a slow start in three of the matches and couldn't dig ourselves out," Jackson coach Jay Martin said. "When you're starting a match down 5-1 or 6-1, that's typically not a good sign. But what really hurts us was how inconsistent we were on some free balls, and we played out of the system too much."
Early on, Jackson's serve receive had some problems and gave up a pair of aces to Havan McGraw alongside one to Maggi Wall and trailed 8-3.
It eventually found some footing to tie the set 11-11 before a kill and block from Sydney Hughes put the Ironladies ahead for the first time 13-12.
After five ties and lead changes, Washington's Kassidy Olsson served up an ace to put it ahead 20-19 before it ended the set on a 6-2 run to close out for the win.
However, Jackson made some adjustments and brought the fight to Washington, using the services of Kaydee Brown's serving and Taylor Yeager off the bench at the net to do so.
Leading 9-8, Brown notched a pair of aces and Yeager came up with a pair of kills to spark a 6-0 run and take a 15-8 advantage.
It continued to maintain a seven-point lead throughout the set with kills from Hughes, Paige Dailey and two more from Yeager to take the second set.
"We played within the system much better, and Taylor gave us a nice spark when we needed it," Martin said. "Our setters weren't having to move around as much, which is exactly how we want things to be. The communication was much better, and our hitters were finding the holes in Washington's defense."
Washington took an early lead in the third set before Jackson tied the game 11-11. That's when the Blue Lions turned up the heat.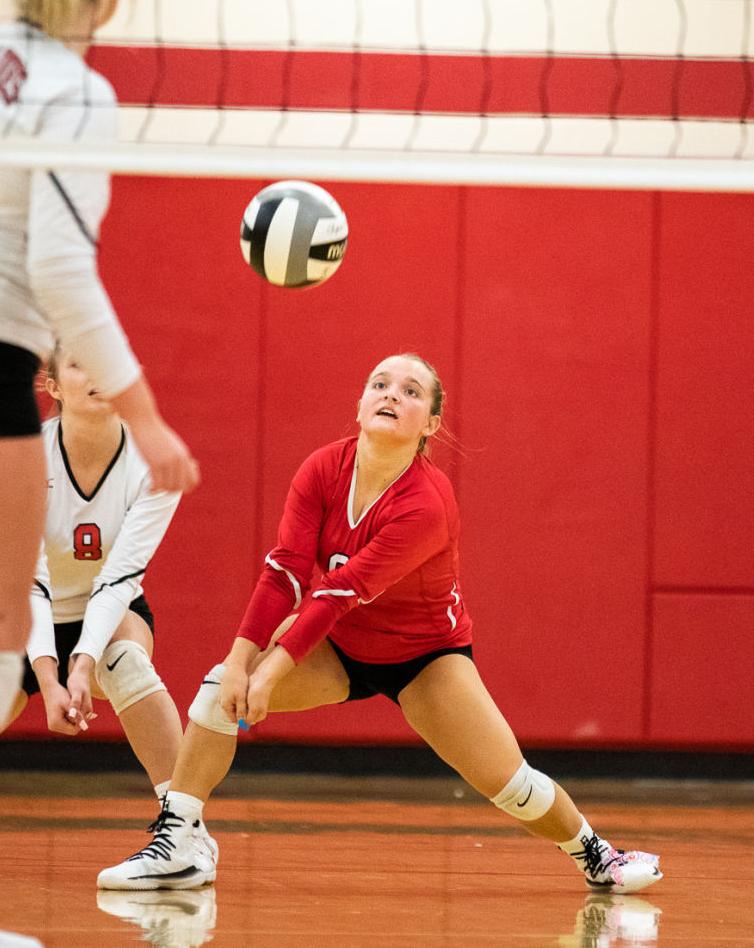 But between Olivia Wayne serving a pair of aces along with kills from Aaralyne Estep and Calleigh Wead-Salmi, they went on a 14-2 run to claim the third set with ease.
That momentum carried right over into the fourth set, though Jackson made things very interesting down the stretch.
The Blue Lions maintained a lead with the entire way behind kills from Olsson, Estep and Wead-Salmi, with the biggest advantage coming at 20-14.
Yet, Jackson still had some fight left. Brown served an ace and kills from Yeager and Haylie Johnson added up to a 5-0 run to trim the lead to 20-19.
After some more back-and-forth, the Ironladies managed to tie the game 23-23, but back-to-back kills from Estep sealed the deal on a win for the Blue Lions.
"We were digging way too much and sent a lot of free balls that were short, which is something that we've been working on," Martin said. "Those free ones have to be sent deep to give our defense time to set up and get in position, but Washington took advantage of that and attacked."
Brown finished with 21 digs, seven assists and three aces, followed by Hughes with 14 digs, 11 assists and six kills.
Allie Bradbury had 13 digs and eight assists, Johnson added 13 digs and Yeager finished with seven kills.
Jackson returns to action on Thursday for non-conference action at Wheelersburg.