With the number of awards Cameron Zinn continues to pile up in her high school career, she's going to need a bigger trophy case.
After being awarded District 13 Defensive Player of the Year last season, she was tabbed as Offensive Player of the Year after the Southeast Ohio Volleyball Coaches Association released its all-district teams on Thursday.
Zinn helped lead the Vikings to a 21-4 season, their first time in school history with back-to-back 20 win seasons, alongside a TVC and Division II sectional title.
She finished the season with 732 assists, including her 2,000 career assist, 212 digs, 127 kills, 86 aces and 24 blocks.
While Zinn claimed her award offensively, Kerrigan Ward was named as Co-Defensive Player of the Year with Gallia Academy's Jenna Harrison.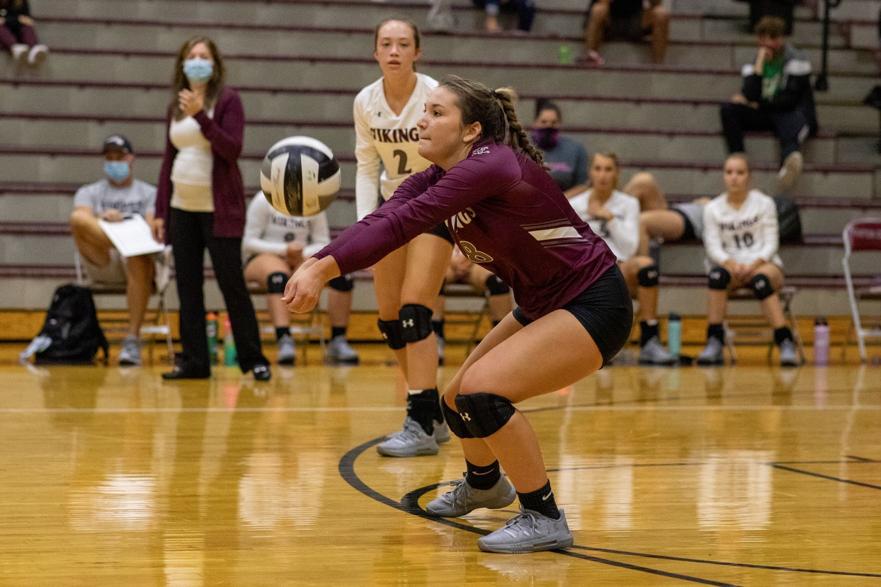 Ward finished the season with 401 digs, including No. 1,000 for her career, as well as 43 aces and 21 assists.
Joining the Viking duo on first team were teammates Sydney Smith and Lacy Ward, alongside Jackson's trio of Kloe Zink, Kaydee Brown and Kaycee Perkins.
Smith finished as the team's leader in kills with 351 to go with 168 digs and 56 aces, while Lacy added 293 kills, 145 digs and 51 aces.
Zink led the 10-8 Ironladies with 217 kills along with 180 digs and 13 aces. Brown topped out with a team-highs of 345 digs and 35 aces, while Perkins added 149 kills, 55 blocks and 21 digs.
Rounding out the first team list was Gallia Academy's Bailey Barnette and Maddy Petro.
Vinton County's Ashley Ervin was named District 13 Coach of the Year.
Jackson Halle Hughes and Zoey Kiefer earned second-team district honors. Hughes finished with 303 assists, 180 digs, 25 blocks and 24 aces, while Kiefer had 142 kills, 46 digs, 34 aces and 30 blocks for the Vikings.
Joining them on second-team was Gallia Academy's Regan Wilcoxon, River Valley's Mikenzi Pope, Athens' Kesi Federspiel and Meigs' Mallory Hawley and Hannah Durst.
Sydney Hughes earned third-team honors for the Ironladies after tallying 213 digs, 69 kills and 15 aces.
She was joined on the list by Warren's Haylee Morgan and Lakyn Ellerwood, and River Valley's Malerie Stanley and Madison Hall.