MCARTHUR — For the longest time, Vinton County struggled to just be competitive when it came time to play Alexander.
But over the past three years, the tides have completed turned in the Vikings' favor, and they did one more time on Tuesday.
Though the Spartans competed tough and put the pressure on, the Vikings relied on their experience down the stretch to earn a straight-set victory 25-20, 25-21 and 25-19, marking their sixth straight victory over their TVC foe.
"Though (Alexander) graduated a lot of seniors, it's always awesome to beat them," Vinton County's Cameron Zinn said. "They're still a super scrappy team and gave us a good game. We were coming off a big road win at Nelsonville last week, and even though we didn't play our best game, we are scrappy enough and made plays at the right time to win."
The Vikings have set their goals very high for the season, and understandably so with 10 seniors who have mostly been playing since they were freshman.
However, it also one goal at a time. They're now just two games from clinching a share of the TVC and three games from being outright champions for the third straight season.
"This is our last chance to really accomplish something special," Zinn said. "We really want to add more numbers onto the banner, and not just TVC and sectional but go really far. I think back to this past basketball season and the run we made about how it brought the community together, that's what we're hoping to do."
The Vikings wasted no time, jumping out to a hot start behind kills from Zinn and Sydney Smith before an ace from Lacy Ward gave them a 9-2 lead.
However, the Vikings were also their own worst enemy by committing error that allowed Alexander to cut the deficit down to 11-8.
Ward, Zinn and Smith continued to lead the charge, but the Spartans continued to hand around with some timely kills on top of more Viking errors, adding up to a 20-19 game in the Vikings' favor.
In the end, kills from Tegan Bartoe, Zoey Kiefer and Cameron Zinn alongside an ace and kill to end it from Jordyn Zinn gave the Vikings the first set win.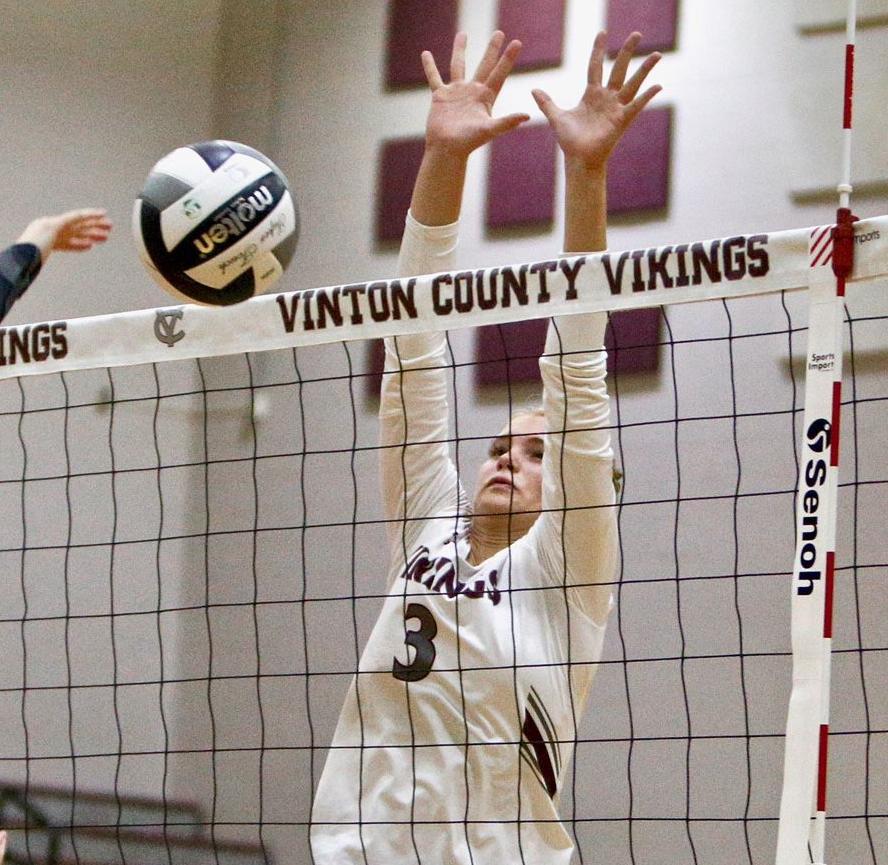 Understanding they needed a faster start, the Spartans took the fight to the Vikings are controlled the early portion of the second set behind Lexi Grisset and Macey Jordan.
They lead the whole way until Taylor Houdasheldt went back to the serving line and ripped back-to-back aces to give the Vikings their first lead at 13-12.
"Coach Kevin (Gwynn) gives me a spot to hit it to, and I just do my best to hit that place and find open area," Houdasheldt said. "We've been playing well, but we have to stop playing to the level of our competition. We have to exceed our expectations and continue getting better."
The lead ballooned up to 17-13, but Alexander answered back with a 6-2 run to tie the set 19-19.
But once again in the end, the Vikings' playmakers stepped up as Cameron Zinn and Zoey Kiefer each registered a pair of kills to help claim the second set.
"As a team we've been serving really aggressive, and although we've had some missed served, it's been working," Cameron Zinn said. "Keeping that level of aggression from the serve carries on into our play."
Staying on the attack, kills from Smith and Jordyn Zinn pushed the Vikings ahead before Emily Phillips notched an ace for a 9-4 lead.
Though the Spartans closed the lead to 11-9, they didn't have enough firepower to overcome the Vikings as a pair of kills from Smith followed by an ace from Kerrigan Ward and Houdasheldt pushed the lead to 19-12 before closing out for the victory.
"Ever since that South Webster loss, we've worked a lot, and our blocking has gotten much better," Cameron Zinn said. "That next practice after that game, we looked out of sorts and all over the place so we focused on cutting down our hitting errors and knowing where we need to be defensively, and our back row has done a great job of moving around."
Cameron Zinn finished with 18 assists, 13 digs, 11 kills and a pair of aces, followed by Smith with 15 digs and 10 kills.
Houdasheldt had seven digs and four aces, Kerrigan Ward added 15 digs and three aces, and Kiefer had seven kills.