McARTHUR — Over the summer, Vinton County volleyball had more than 40 girls coming out to play for the Division II rising power.
While the numbers were outstanding, it also led to some tough choices, and girls had to be cut from the team.
Ultimately, it came down to one final spot on the varsity roster and a battle ensued for that final spot. When the dust settled, it was freshman Jordyn Zinn who emerged to earn that 12th spot on the varsity roster.
"It wasn't the worst year, but it was sort of the worst year for me to come up because there were already 10 seniors on the team," Zinn said with a laugh. "I came in to tryouts knowing that I was going to have to work my tail off to earn it. It was such a great feeling knowing that I got that final spot."
However, that final varsity spot meant much more than just a name on Vinton County's volleyball roster.
It gave the younger Zinn the one thing she wanted more than anything — a chance to play with her older sister, Cameron.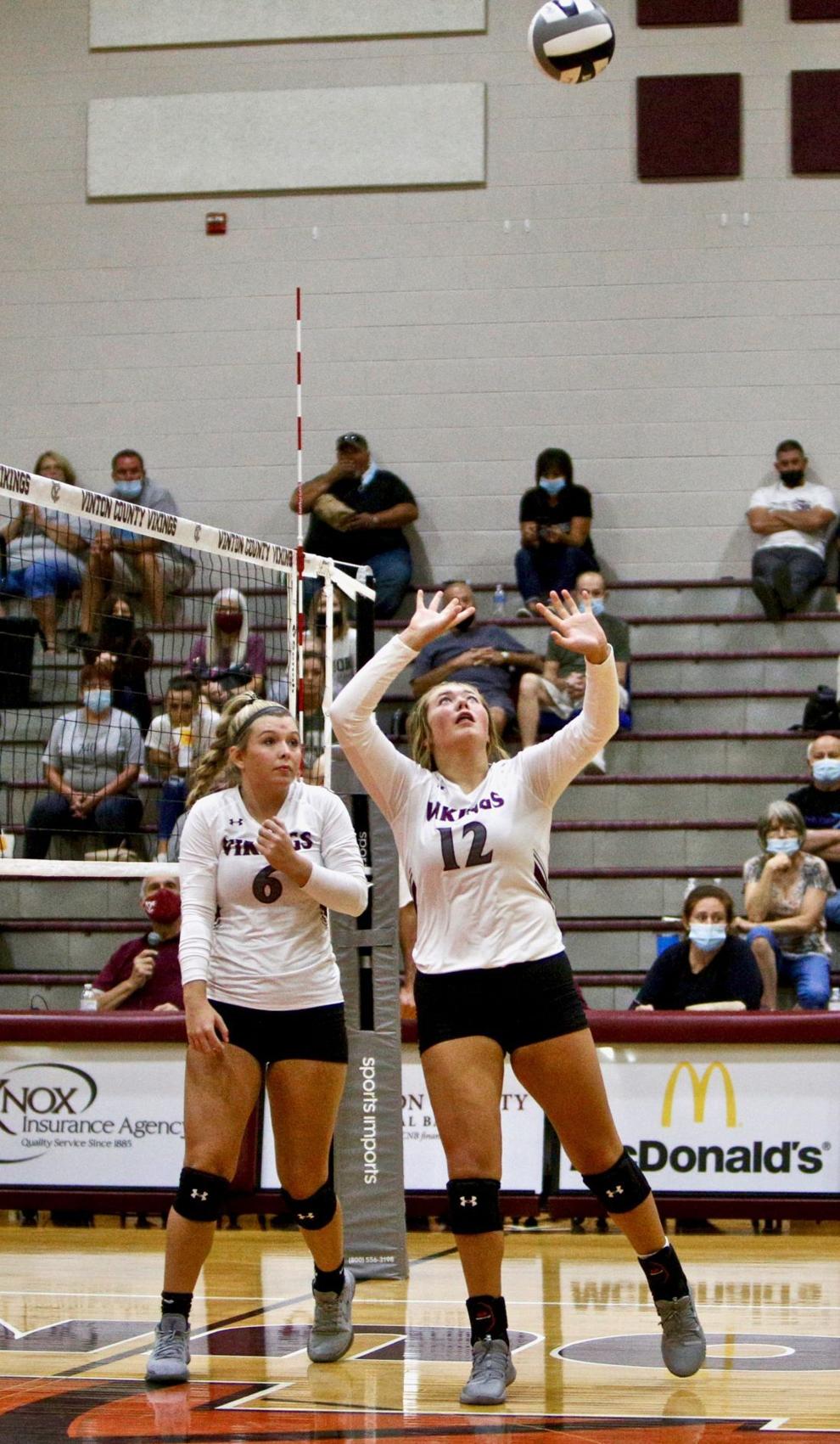 "Not very many people get the chance to play with their sibling, so I was really excited when I found out. But I also wasn't surprised she got it," Cameron said. "She was the best player on the eighth grade team and put in a lot of work over the summer to improve for making varsity.
"She had to come in and adjust to having teammates who were older than her and just as good, but I couldn't be more proud of her and how she's handled herself."
Whether it's Cameron or Jordyn setting the ball, Vinton County hasn't missed a beat all season as it currently sits 22-1 on the season, which has tied the record for most single season wins in school history.
Although Jordyn missed a part of the season with an ankle injury, she's still compiled 136 assists, 42 digs, 39 aces and 26 kills in 57 of the Vikings' 70 sets played this season.
"I was a little nervous at first when I got in the rotation," Jordyn said. "It was a whole readjustment of learning their terminology and a few other things. But, it helps that I've known the girls my whole life and grown up around them, they have been so good to me."
When Jordyn on the floor, it's also allowed Cameron the chance to do something she hadn't been able to do up until now; be an outside hitter.
And to the surprise of no one, she's thriving at it to the tune of 219 kills on top of 468 assists, 228 digs and 102 aces.
"I get to hit and I really it enjoy that. But having Jordyn in the rotation definitely gives us a lot of options and opportunities," Cameron said. "She's improved her game all the way through and our back row has made our jobs as setters much easier since their passing has been great all season."
Those numbers Cameron has put up this season amount to one of, if not the best single seasons any player has had as a Viking.
Her resume already speaks for itself as she currently sits for her career with 2,558 assists, 1,000 digs, 577 kills and 301 aces.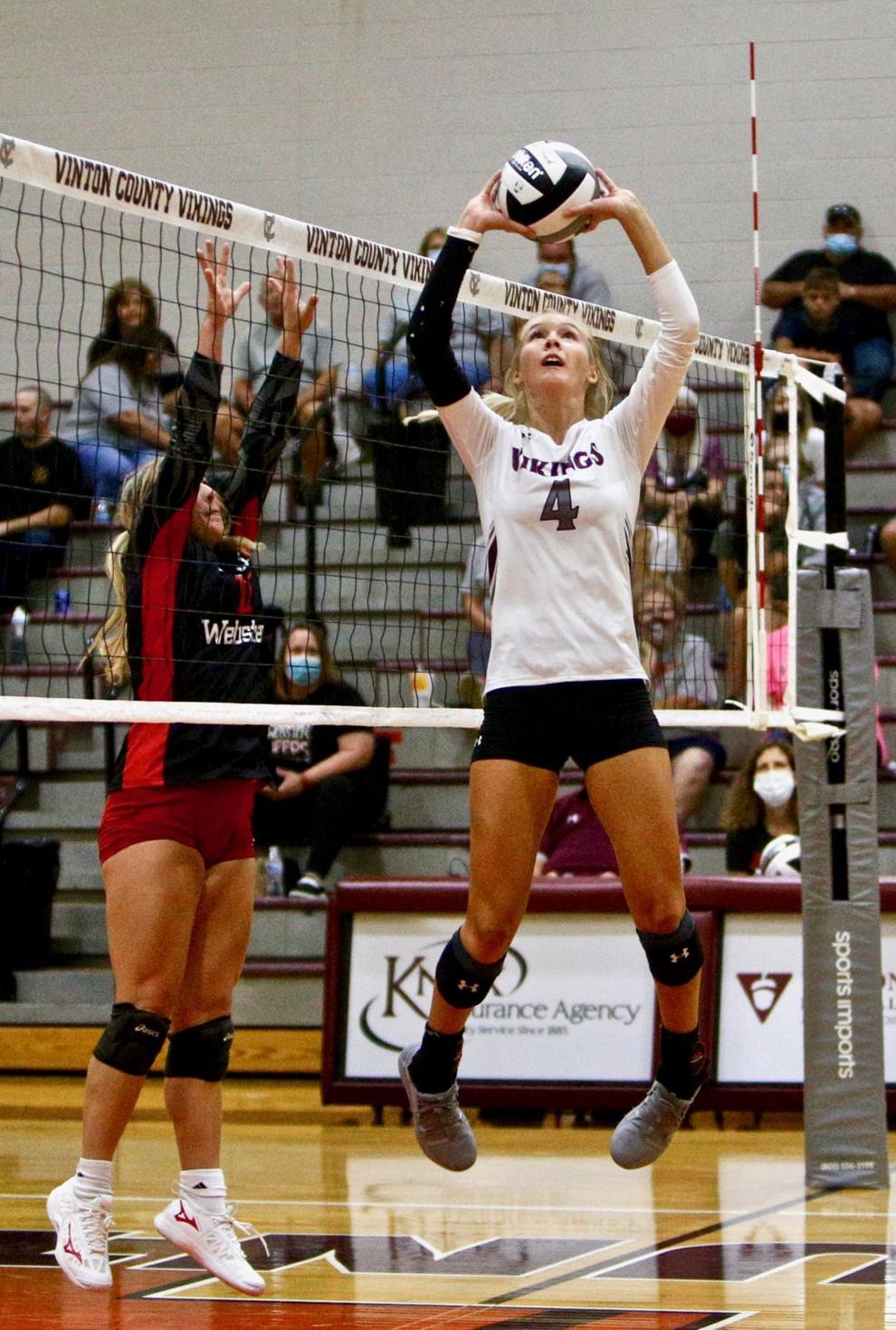 But now instead of cheering from the stands, Jordyn gets to watch it unfold side-by-side as a teammate instead of just a sister.
"I've always looked up to Cameron in everything, especially in volleyball," Jordyn said. "She's one of the hardest working people I know, and watching her pushes me to have that same work ethic to see what I can accomplish over the next three years."
They've thoroughly enjoyed playing alongside one another, and it's clear to see how they've made each other a better player. For Jordyn, it's gaining experience, while for Cameron, it's adding a level of versatility to her game before she continues her volleyball career at Wheeling Jesuit University.
But naturally like sisters, they also have those occasions where they get on each other, especially in the heat of battle because that's what competitors do.
"She blames it all on me," Jordyn said with a laugh.
They both want that district final appearance and the chance to bring Vinton County its first volleyball district title. But first comes a date Tuesday against Logan Elm.
No one knows how much longer this ride is going to last, but one thing is for sure, they're both soaking up every moment possible. For themselves as sisters, and the other seniors as teammates.
"This is undoubtedly the best team that's ever came through Vinton County, and our focus is on getting that first district semifinal win," Jordyn said. "We have to continue pushing and leave everything on the floor."